Wednesday, May 25
A bit of this and that..
So I did get the answer for the debie Stoller book, btw... Yes, it's a No. But the good side was this : the "
SnB rejected
" thread in Crafster, very cool to see what others had submitted !
I also discovered a section of Crafster I had no idea about, the Vintage section ... which led me straight to my local Op-shop last saturday... And Yum, on top of 3 balls of nice Alpaca/wools of highlands and 3 more of cotton, I found this huuuuuge pile of knitting and craft magazines... So I kind of looked at every one for about an hour, bought about 1/4 of them.. and am now the happy owner of lots of
very nice vintage patterns
(mostly from 70s), and much more interesting than the usual granny square ponchos too !
About the actual KNITTING, well I did get some little things done : a nice little lacy scarf (my first lace project !)I'm really glad that I finally found a good use for those tiny 3 balls of angora/silk yarn that waited for years in my stash for a suitable project.. The pattern is from Marie Claire Idees (variation of that pattern
here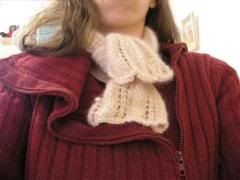 (please excuse the funny hair!)
And then yesterday I finally got the pattern for the SnB "1 hour booties" after drooling over it for months... And I just knitted a pair straight away too ! The pattern is really so easy, and clever ... and most of all unbelievably quick !!! Even though I knitted them with bigger needles (7mm), they hardly fit Prune's feet any more (she's 11 months..), but I'm happy that I've used this yarn, YEAH !, and I'm definitivly knitting more of those !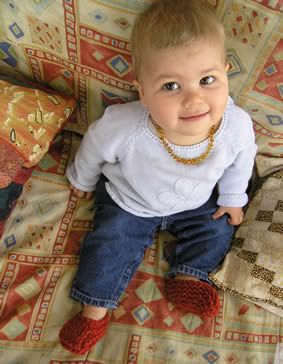 Oh, and I nearly forgot : My friend Rachel sent me a photo of the
victorian choker
(with a
Stitch diva "dusty rose"
)I knit her for her birthday, as I finished it so late I hadn't taken any pic... Unfortunately, it is too loose for her. So much for late knitting !!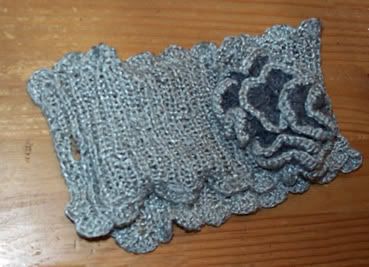 ... And now off to my ruffle shrug from IK, I'm nearly done...