Sunday, May 29
My Rib shrug !
Well I've finished it at last. And I LOVE it !!!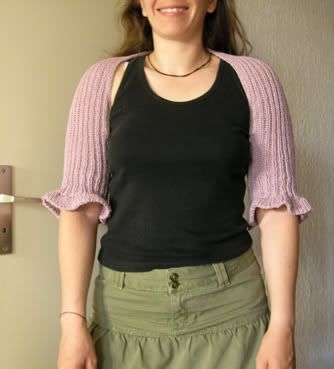 I fell in love with that
pattern
the first time I saw it but I wasn't sure I'd actually wear it, or give it as a present... But I've finished it yesterday night, and haven't worn anything else since.. So I guess we might have a keeper there !!
I also happen to love that yarn, it's the cotonina from Miss Helen (sold in french "monoprix"), with a lovely texture, nearly ribbon-like, 60% cotton, ..and only 1.70 euros/ball (3 balls for that shrug) !! And that color ...!!!!!!
(It's also the same yarn I used for the turquoise little textured tote shown below.)
Anyway, I love wearing that little shrug, it's just warm enough, and so cozy on my shoulders ! The perfect item for the weather we're having these days, with over 30°C...
Now, what will be my next project ? Probably some cute baby stuff for my friend Laure's baby girl who was born last week, Juliette. I want to make a Lacy baby bonnet, and maybe a pair of booties and a cardigan. Like in red...!
Wednesday, May 25
A bit of this and that..
So I did get the answer for the debie Stoller book, btw... Yes, it's a No. But the good side was this : the "
SnB rejected
" thread in Crafster, very cool to see what others had submitted !
I also discovered a section of Crafster I had no idea about, the Vintage section ... which led me straight to my local Op-shop last saturday... And Yum, on top of 3 balls of nice Alpaca/wools of highlands and 3 more of cotton, I found this huuuuuge pile of knitting and craft magazines... So I kind of looked at every one for about an hour, bought about 1/4 of them.. and am now the happy owner of lots of
very nice vintage patterns
(mostly from 70s), and much more interesting than the usual granny square ponchos too !
About the actual KNITTING, well I did get some little things done : a nice little lacy scarf (my first lace project !)I'm really glad that I finally found a good use for those tiny 3 balls of angora/silk yarn that waited for years in my stash for a suitable project.. The pattern is from Marie Claire Idees (variation of that pattern
here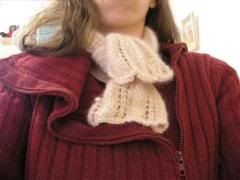 (please excuse the funny hair!)
And then yesterday I finally got the pattern for the SnB "1 hour booties" after drooling over it for months... And I just knitted a pair straight away too ! The pattern is really so easy, and clever ... and most of all unbelievably quick !!! Even though I knitted them with bigger needles (7mm), they hardly fit Prune's feet any more (she's 11 months..), but I'm happy that I've used this yarn, YEAH !, and I'm definitivly knitting more of those !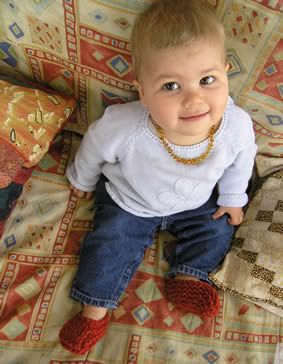 Oh, and I nearly forgot : My friend Rachel sent me a photo of the
victorian choker
(with a
Stitch diva "dusty rose"
)I knit her for her birthday, as I finished it so late I hadn't taken any pic... Unfortunately, it is too loose for her. So much for late knitting !!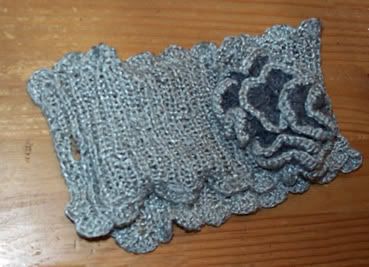 ... And now off to my ruffle shrug from IK, I'm nearly done...
Tuesday, May 17
Happy birthday mom !!
Well this week end was my mom's 60th birthday ! We had a lovely day, a cruise & lunch on the lake of annecy (this is where I live), and I managed to finish (just just, had a couple late-night kntting) a few little things I wanted to make for her.
So there was a
Little textured tote
(I love this pattern !)
Inside, I put a sort of comfort pack inspired by the one in "Crochet me" (put it didn't come half as nice, and it was too late to modify, thus I won't show it here..),and also a pair of fingerless gloves from "Last minute knitted gifts", for her to use on the piano..or computer !!
I love the result, and I love that pattern. I'll have to sort out my needle issue though, as my current circs are too long and I had to knit those flat. Plus, it helped not messing up my patterns..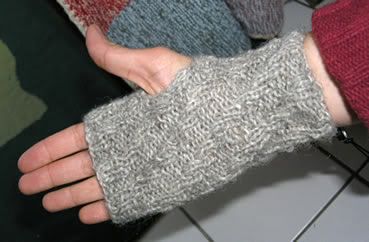 In the BIG news, I also received a wonderfull surprise in the mail from super-nice dorothy (thanks again a million!) :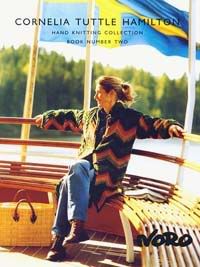 The second book of the Cornelia Tuttle Hamilton designs, using Noro yarns... Yummmm !! I just can't stop looking at it, they are all so beautifull ! Of course, I'm dreaming of making Klaralund, but there's also this very pretty shawl (even though I'm so not-a-shawl-knitter usually ! Or maybe it's the colors... and the design..and the yarn ...!!!)
And lastly , I'll just add a pic of former fo's, 2 little pouches I freehanded a couple weeks ago :