Monday, November 28
Tote.
Right, so this time it's done. Finished. Over with. I cut the handles of the tote on sunday and reknit them, changing a wee bit their placement and adding a bit of length. I'm much happier with how it looks now !! :-D I'm now working on the pattern, which I'd like to finish by tomorrow, before my busy "Uni-days".
And it can even hold my knitting ! ;-)
It's the actually the scarf you can see inside, now about twice the size it was the other day now. Now that I got the hang of the pattern, it's really quick. Even frustrating, nearly ! ;-)
Mind you, I'm using 6 mm needles, so of course that helps. But I love how it's airy and light and yet warm. I've also found some nice pearls on saturday that should be a perfect finishing touch for it.
.. And I just can't resist showing you more pics of laurent and prune, with their snowman ! (hehe, both with hats I made them. But years and years ago for laurent. Which is the reason why he's asked for a new one...!)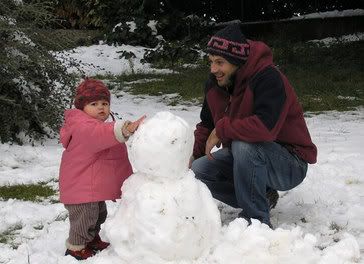 Friday, November 25
Published !
Yay ! My article "
Knitting from the french
" is now online !! Published in stephanie's super cool new magazine,
Knitting fog
, also featuring a fantastic lacy dress free pattern, and an interview of Julie Anderson ! In my article, you'll find a dictionnary of french to english knitting terms, and the pics link to french free pattern sources.
And look at what we got last night?!! Prune seemed to love it, she even went "exploring" into knee-deep snow (for her!). That's great, we both LOVE snow too. :-D
In other news, here's the beginning of a lacy scarf I'm making. Part of the said stashbusting operation. This yarn had tried to be the Meg Swansen scarf from the fall VK, but I was so afraid I would be short of yarn I frogged it and started again with this lace pattern which I had already been eyeing for a while. And the good surprise was, it's super easy too ! Only a small section to remember, I loooove that ! This was all knit in the train to and from Uni yesterday. :-D
Also, it doesn't show as well on that pic, but the yarn is really cool, it changes colour a bit, from yellowish to some reds mixed in the green... I think it's going to look nice. I'll probably add some picots edging for finishing, we'll see.
..And finally, last but not least, I had my first ultrasound this morning. Yess..., cause I'm 2 months and a bit pregant.. !!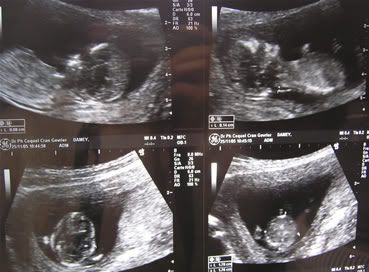 I've known for a while now, but I just didn't want to tell too early. Thought this would be a good occasion.. ;-) Apparently all is fine so far, 2 arms, 2 legs, ... and only one baby ! ;-)
I was actually glad to have this opportunity to "see" the baby-in-the-making (apparently it's about 10 cm long), cause between prune and going back to school ..and not being as sick as for prune at all (which is good !!) .. sometimes I really forget I'm pregnant. Except my back is starting to ache these days.. Plus of course the boobs thing .. ;-)
Monday, November 21
Stashbusting mode
So I did make a hat for laurent this week-end. A real nice combination of yarn, nice tweedy pure wool navy and super fluffy and ubersoft orange. But it's been so many years since I last knit hats that I had forgotten all my numbers. The hat ended up really too wide. Kind of a rasta hide-it-all hat. And it didn't suit him AT ALL ! So that shall be frogged, and we're trying again. But he said he's like a hat knit with smaller yarn for a change (that one was 6 mm needles, and I used to knit ALL my hats with 7 mm.. ;-) ) so now we're looking for a suitable yarn combo.
BUT, I decided on some yarn to use for prune's hat, and at least that one worked out fine ... I
just
finished the bottom (I call it my lazybum technique : first knit a regulat hat, then pick up the bottom stitches & knit one more row adding the earflaps with some short rows. Makes a pretty neat finish too, and they always fit real nice this way !). And yes, that's a little bit of i-cord on top of the hat... Didn't want no pompoms, but no flat top either.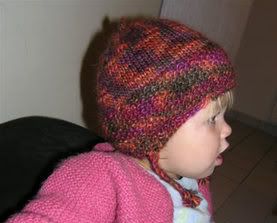 And that's one stash skein down ! Not that it shall make a great difference yet.. ;-) but I've been thinking these days of all these holiday projects to make, so I'm hoping to use lots more !
I also learned to knit continental the other day, (inspired by
yahaira
!), but haven't practised much yet as I always think "not this one, this needs to be regularly knit".. I guess I need to make some basic stockinette little to practise knitting continental ..!! ;-) However, I feel relieved now to have found out about this technique, it feels so much more natural !!!
Oh, and our friend Rebecca called the other night and she'll be visiting soon (from B.C., Canada), it's going to be so exciting to see her !! Can't wait !
Okay, now onto the next project. Some fingerless mitts, or maybe some lacy mohairy scarf.. ? (Duh, always forget. Have to re-make the handles for the tote though. Won't take long, but have to do this before anything else!)
Tuesday, November 15
The whole set
I'll definitively take better pics later, but that's it, I've finally finished the tote ! (so weird, this darker mark in the middle!!)
And the three together :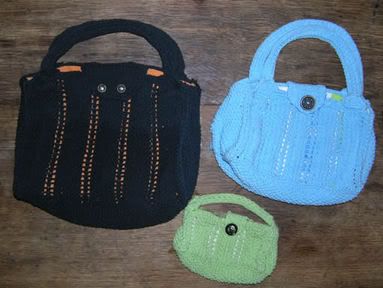 Only thing is I'm not so sure about the length of the handles for the tote. Maybe a wee bit longer ..? (What do you think ?)
Of course, I'll take some "action shots" on friday (wenesdays and thurdays are long busy Uni days here now) so we can judge better.
But other than that, I guess it's kind of ok. I might add some little inside seed stitch pockets too, don't know... And then type the pattern ! (but that shouldn't take long) Which reminds me I really should update a bit chezPlum, with my "new design by the end of september".. Oops. Laurent said maybe for Christmas. Oooh, it's just going to be so awesome. Patience is the key. Plus it's not like I had tons of new patterns ready each week these days.. ;-)
I also had some really cool cool cool news these days, hope it'll be confirmed. :-D
And now the question is: which project shall be next ? I've started to think about some holiday knitting, so I took my "Last minute gifts" out (Yum, how I love this book !) and will certainly make more mittens-whatever she calls them. I had good fun making those for my mum already, and loved the result. Must make a wee Isabeau purse for my niece too, and probably some scarves and/or stoles, depending on what inspires me in the stash. Ooh. And I always forget, I need to make laurent a new hat. I even know which yarn, and he likes the Manos hats in LMKG so I know the shape he wants too.
Have
to remember that this should be my next project !! (and prune also needs a new hat btw..)
I've also decided on a sweater I want to make for myself (I've only ever knit one, and that was like 15 years ago !!), the blue lacey cables pullover in the fall VK. , for which I may even be able to use up some stash yarn. Not exactly the purrrfect yarn but a really nice color. I started swatching, we'll see what comes out. But anyway I still want to concentrate on other things before I start on this. The mere thought of it is nice though.. ;-) I just know this will be a sweater I'll wear
a lot
!!
Friday, November 11
Of patience and the sewing-machine
Right, trying to post at least once a week so I guess I'd better hurry before I get to "next week" ! To my surprise, I've done some good progress on the Isabeau tote: I've finished knitting the body of the bag AND nearly finished sewing the lining. (by hand, I'm too lazy to get the sewing machine out "only for such a little project". Plus this thing always drives me crazy, funny how I'm usually such a patient tranquill person, EXCEPT with a sewing-machine !)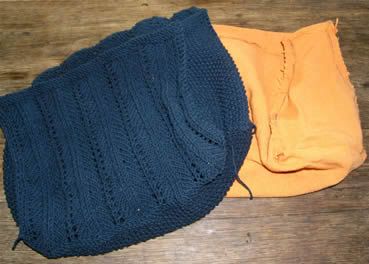 Anyhow. So I'm hoping to finish the lining and finish off the bag (handles, buttonhole strap etc..) like within the week-end ... and see the end result soon ! Ta-da... Let's hope for next week, right ? It may not seem quite so tote-ish yet on the pic, but I swear it is both wider and higher than the
handbag
. But that's the thing, you can never really tell what it's gonna look like till you see it finished...
Oh, and I'm glad to have yet another tester (thanks sheryl!) working on the XL size for the shrug. Maybe we'll be lucky this time. (
this being said without any bitterness ! I'm so grateful to all the ladies who are kind enough to help me out with this !!
)
I got my copy of Vogue yesterday in the mail. Thanks so much stephanie ! (your Phildar is on the way) I really
adore
the victorian patterns, and some of the cushions are really super pretty. Also, I like the technique nicky Epstein used for her flowers... but other than that, I was a bit surprised by the patterns. Is winter so un-inspirational ?
And also.. can I say it ? I'm going to write an article for a new toronto-based online knitting magazine! .. nothing fancy, just an article about translating french patterns into english (what else ?!), but still, I'm going to be published, exciting ! :-P
Hope you'll all have a great week-end. It's a 3-day week-end over here and weather seems promising so hopefully we can have a nice hike !
Wednesday, November 2
The pictures
The scarf was sent earlier today, so here are the promised pics.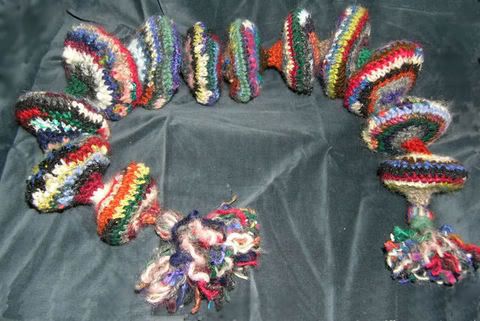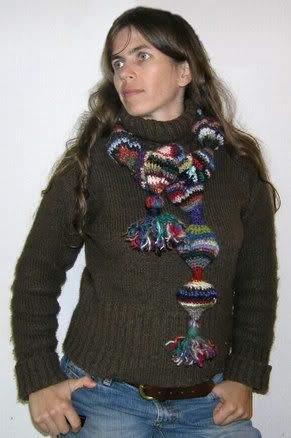 ... So, hehe, that was an FO, right?!! Wow, I'm still under shock. ;-)
I've also written 5 pages for the "6 to 8 pages book review" due for tomorrow's american civilization class. Hoho. Looks like I'll be able to have that more or less done too...? But that's thanks to laurent who took care of prune all yesterday so I could work on it. And I yet have to prepare another text as well for an oral review in another class.
Student life...
Photo coming soon !
but the fancy scarf is done. I just need to add tassels at the ends (thanks for the right word BH !!), snap a quick pic, and get it mailed out asap !!!!
Hopefully I'll get that done today, and shall post a pic then.
But the actual reason I couldn't wait and HAD to post is the
latest VK
and its stunning victorian knits with delicate lace, and especially
this one
!!! So I was just thinking, if somebody wanted to do a little mag swap, I could probably send you a
Phildar mag
of your choice in exchange (I could even translate your fav pattern as part of the "deal" in it if need be), or another french mag... I just have one in mind that's usually worth the wait (beg. of december). Just let me know if you're interested.