Thursday, January 26
The meme
I've just started on a new project. A mohair crossover cardi with daisy eyelets on the front panels. I've been wanting to knit it for ever, and I just decided this big cone of deep red mohair should work. And it does : stashbusting !!!! Knits on 6mm, so that should be another cruisy and quick project... till I get all my new shelves and can browse thru all my yarns to start on the million other projects !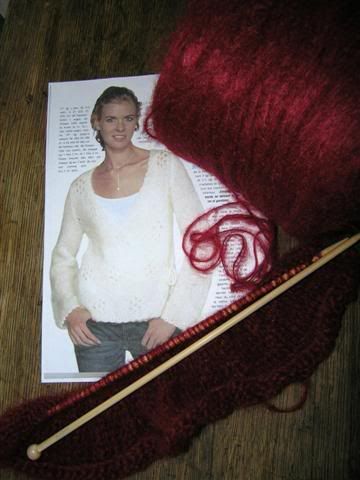 And here's the meme:


4 jobs you've had in your lifetime
carpenter on a log cabin in Alaska, housekeeper, interpreter for a snowboard company in Munich, .. but the closer to a "real job": cashier, selling ski tickets in ski resorts. (did that 5 years altogether)
4 movies you could watch over and over
just like sandra "Pride and prejudice" (BBC or others, actually..), "Moonsoon wedding", "Smoke signals" (fry bread power !!), "where the heart is" (the walmart baby)
4 places where you've lived
Saudi Arabia and Qatar when I was a kid; Squamish, BC, Canada; Wanaka, New-Zealand; ..and say Perth, Western Australia.
4 tv shows you love to watch
ooh, hard one. We don't have the same shows here, plus I'm not big on tv shows I guess. Nothing comes to my mind right now... (not that I don't watch any, though)
4 places where you've been on vacation
Arizona, Reunion island and Mauricius, Florence/Tuscany, ...and then french places I guess like the côte Basque.. ?
4 websites you visit daily
Crafster, Statcounter, my blog, ..what else ? Oh, maybe Google.
4 of your favorite foods
tarte au citron meringuée (lemon tart topped with meringue), anchovy-stuffed olives, salty stuff like dry ham, salami.. , and does a drink count ? jasmine green tea.
4 places where you'd rather be now
I'm pretty happy with where I am, but say ... a cool house that I could call my own around Grenoble, Reunion island, Perth, Irkutsk. Warm and sunny would be nice.
4 bloggers you're tagging

If you're up for it :
Christine of
Knitting for Boozehags
Jacey of
Insubordiknit
Marie of
Brooklyn Handspun
Karen de
Stitchounette
...
Wednesday, January 25
The vest !!
Yay, it's done, and I can still (barely) fit my belly in it !!! ;-)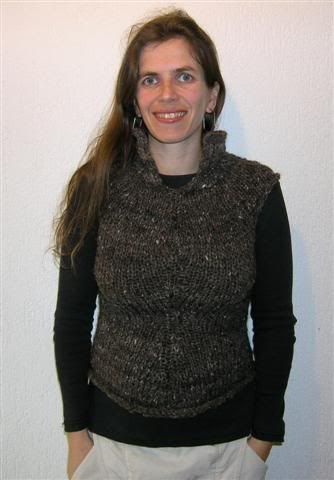 For the profile shot,
lookee here
! 8-)
So it was a really smooth and quick knit. Love the result, but I don't think I'll be able to wear it
long
this year ! Booh.
Probably doesn't need anything else, and no sleeves !! I love how the yarn works with that shape. And it's real warm.
The collar doesn't stand well on its own yet though, guess it'll need some blocking ..!
The pattern was ok. But on top of the
correction
already on Teva Durham's site, I'm pretty sure that on page 51 middle column it should read "sl1, left-slanting-dec, k31, (..) and not k33. Also, forget about the "5 stitchmarkers" : I ended up needing 17 for the yoke decreases !!!!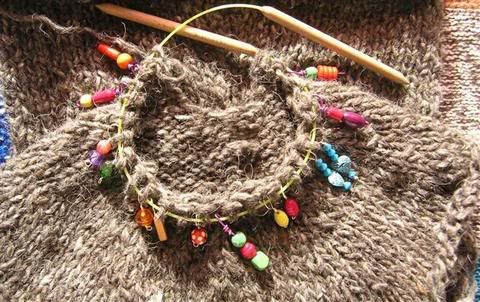 Some places I found a tad confusing, but that may just be me : I'm not so used to following other people's patterns in the end !!!
(And btw, I still have tons of yarn leftover, well enough for a second vest for sure. In case somebody's interested by a swap of some sort..?)
In other news, we've had a great week-end with our friends, lovely weather, fresh snow, kids dancing in the kitchen.. Felt great ! And we're going back for a whole week in march !! :-D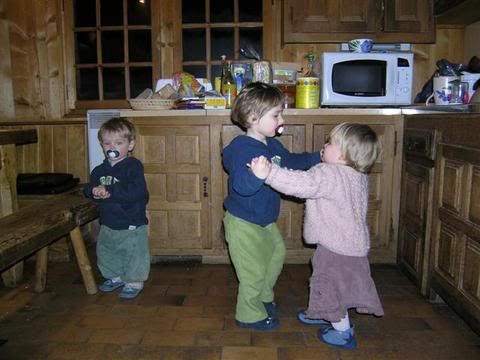 ..And I've been tagged by
sandra
for the meme of 4, hehe, will do that shortly !! But Blogger is supposed to be down very soon if I count correctly.
Friday, January 20
The new Phildar website
So I realised a couple days ago the
Phildar website
has been completely revamped. Looks ok, and you can now order yarn and catalogues directly online, which is cool. (not sure they ship international though..?) Anyhow, my point is, I already got a mail from sbdy who didn't know how to access the free patterns section anymore. And indeed, it's a bit trickier now. So if you want to see the 2 cool asymetrical cardis they have now (they change the free patterns like every season or so), what you have to do is this : go to "modeles presse", then click "creer mon compte" (= create an acccount / ID) and fill in all the boxes or at least the mandatory ones (marked with a star) and that's it !! You'll only have to "telecharger" (= download) what you like among the 2 ladies patterns or lots of cutie baby patterns..
EDIT
. like sbdy said in the comments, they do ship international. But for like 29 Euros to the US.. Also there 's a link to an english version for the site (top left on homepage) although it doesn't seem to work. (?)
In other news, thanks for all your compliments on my circulars ! I'm really pretty happy with them too... I've just re-sanded a bit the 8 mm (and added another coat of clear nail polish) and they work pretty smoothly. I do have to "help" the stitches onto the needle most of the time, but that's ok. It's a real pleasure for me to knit with them... and my little stitchmarkers !! :-D (which don't even stain the needles in the end !)
So I've started on the vest, a couple hours on it here and there and I've already started with the increases (above waist level). So far so good, and it comforts me in thinking this yarn works really well with that pattern ! Only thing is, I've started noticing the little speckles that probably are.. sheep dandruff..! Yuk. But that's okay, just shows it really IS tibetan wool..!! ;-)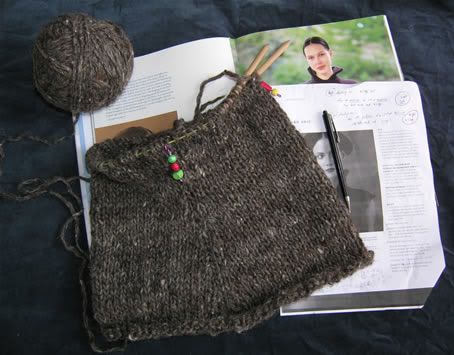 We're going away tonight for the week-end in the family cabin with friends, so I'm hoping it might be finished when I come back.... At least without the sleeves, and then I can decide whether or not I want to add sleeves...?
Tuesday, January 17
Yoke vest ?
Yay !! I finally made my first ever circulars !! Had bought the dowels and stuff ages ago, but then laurent said his drill was too massive to drill holes in them :-/
And then yesterday, I got me some little hand-drills (kind of tiny corkscrew, really) and VOILA ! I'm a bit afraid the joint isn't as smooth as it should be, but I'll give it a try and sand it some more if needed..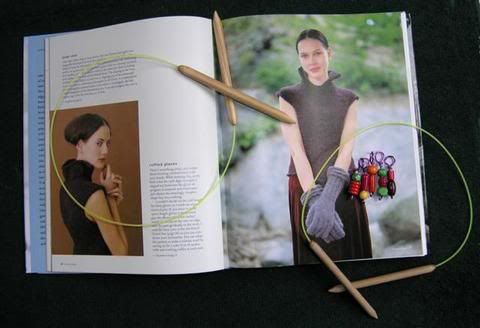 Anyhow, I made two, 10 mm and 8 mm. So now I can start on my two top favorite Loop'd Loop projects, the cowl and yoke vest...
Cause actually I'm now thinking of using my tibetan yarn (frogged my first start, gauge WAS indeed terribly off!!) to make the yoke vest. Good or bad idea ? With or without sleeves (although that can be decided later)..
I'm just afraid it might be a bit tight looking (..especially with my big belly..but then that's only temporary, right ?!!) so maybe make it a zipper cardi ...?
Anyhow, I just made the needed 5 stitchmarkers... ;-)
Thursday, January 12
Can't stop making them !!
So I got me some new gear yesterday (mostly better quality tools!) and made
more stitchmarkers
today !!! This stuff is just so much fun it's addictive... plus I found this colored aluminium wire the other day, and I just looove the result !
Here's my favorite set. I guess I'll have to make some for myself now ... tomorrow ? ;-)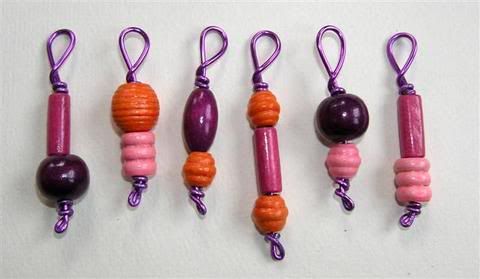 No progress on the knitting front though, since we suddenly decided to move the whole place around yesterday noon ! Which of course involved lots of cleaning, re-arranging etc. But now prune has her own bedroom. And we've slept our first night in the main room... with the noise of the fridge: that was a bit weird.
Anyhow, I should have my new shelves within a couple weeks but until then I've boxed all the yarn. Guess that means I'll just have to concentrate on my tibetan anyway, and have it done quick !! :-D
Tuesday, January 10
Tibetan, stitchmarkers... and my future "studio"
Nothing super exciting to show, I've started on the "tibetan" cardi but I have to check the measurements, and my gauge. I'm afraid it might be off so I might have to redo the math and start over again. No big deal though, .. and this way I'll probably change a few things. It always takes a bit of "practising" on a new design to see how the yarn and shape "work"..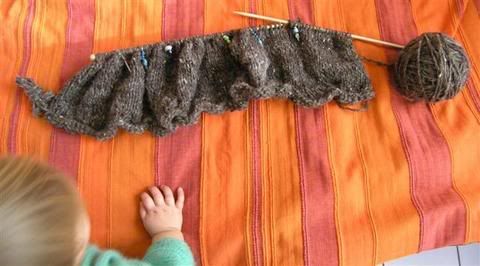 I also had good fun making more stitch markers this week-end. I needed a few extras for the new project anyways as it's all done in one go, sides and back together.
And then I went on and made some more. .. My fingers were all sore and red on sunday night from all this shaping the wire and stuff ! ;-) I've just put some of those in my
boutique
for a try.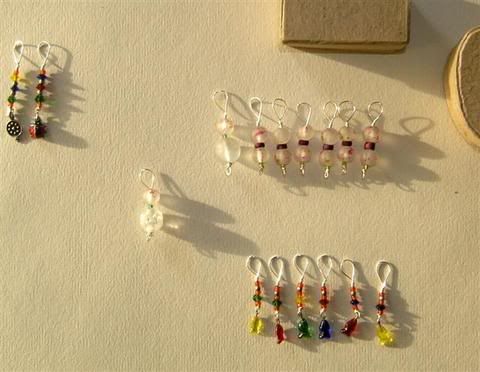 In other news, we're on the verge of completely reorganising the appartment. We have only one bedroom here that we've been sharing with prune so far (and she'd sleep in the main room during the night). But we're going to let the room all for herself, and sleep in the living room.
But that's not the exciting news. Exciting news is laurent said he's had enough of having yarn lying all around the place, and that I'd get some new shelves for all my knitting stuff.
Sooo... I've been looking all around the place for what kind of shelves !!!!! Hehe... I still have to decide between a couple options, but the grand plan is I want a WHOLE WALL of shelves in what shall become prune's room, with boxes-like things on top to store my yarn !!!!
To which laurent said "noo, you're not going to make a full yarn store, you don't need to SEE it all all the time.." But of course I do !!!!!! ;-)
I can't wait, maybe this week-end..?!!!
Wednesday, January 4
..and a Happy New Year !
Good, so all the festivities are over and we can now go back to normal life.. ;-)
Prune's got new mittens, and Laurent a new hat (although he may well get others, that one is far from perfect. but at least it's a hat, and it fits this time)
and I now feel like making a sweater for myself ! I actually brought back more "yarn" from my second stash (!) stocked by a grand'ma in Grenoble,
a finished sweater for laurent ( that he's never even considered wearing) with leftovers ect that I'll turn into something for me one of these days,
And this 100%
tibetan wool
sweater that I got at the salvation army years ago thinking of recycling that gorgeous yarn. So here I am. I've already dissassembled it all, and frogged the 2 sleeves. That's the 2 hanks you see, one has been washed and is nearly dry already, the others might go in the sink this afternoon. (I decided to do it right for once..!)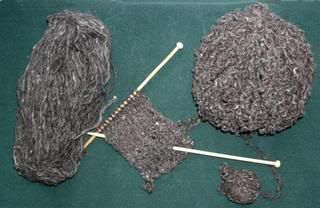 I swatched it on my 6mm bamboos. Guess it could even go with slightly bigger needles, but I really don't like the feel of the others (plastic ! Yuk!) so it should be 6 mm.. I want to go pretty simple, a fairly basic shaped cardi, all in stockinette to just show off the yarn. With maybe some fake apparent seams in the front (and back?).. somehow a bit like the LoopdLoop princess seams cardi, but different.. ;-)
We'll see what I manage to do. At least when I've decided on the plan and all, it should be a fairly quick knit.
And now I should get back to preparing tomorrow's finals. Gavaritié pa russki ? ;-)
But actually the russian one is the easy bit. I had another one yesterday btw, and managed to infuriate my teacher.. cause I answered a phonecall from daycare. I know that's wrong, but then .. and he was all surprised when I told him I thought my daughter was more important than a final at Uni! and he went on and on that I was living on another planet etc.. I was just mad. At least we both cooled down at the end, luckily for me. But boy it was hard to concentrate after that.