Tuesday, January 10
Tibetan, stitchmarkers... and my future "studio"
Nothing super exciting to show, I've started on the "tibetan" cardi but I have to check the measurements, and my gauge. I'm afraid it might be off so I might have to redo the math and start over again. No big deal though, .. and this way I'll probably change a few things. It always takes a bit of "practising" on a new design to see how the yarn and shape "work"..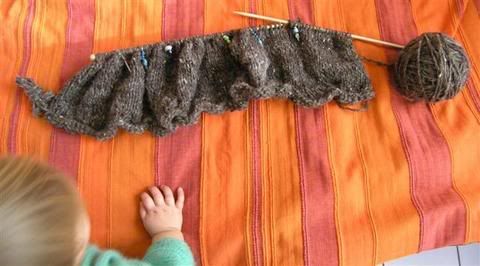 I also had good fun making more stitch markers this week-end. I needed a few extras for the new project anyways as it's all done in one go, sides and back together.
And then I went on and made some more. .. My fingers were all sore and red on sunday night from all this shaping the wire and stuff ! ;-) I've just put some of those in my
boutique
for a try.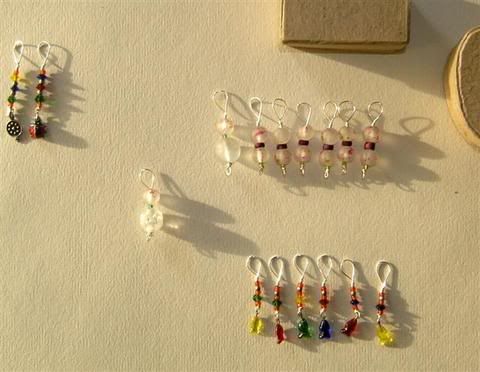 In other news, we're on the verge of completely reorganising the appartment. We have only one bedroom here that we've been sharing with prune so far (and she'd sleep in the main room during the night). But we're going to let the room all for herself, and sleep in the living room.
But that's not the exciting news. Exciting news is laurent said he's had enough of having yarn lying all around the place, and that I'd get some new shelves for all my knitting stuff.
Sooo... I've been looking all around the place for what kind of shelves !!!!! Hehe... I still have to decide between a couple options, but the grand plan is I want a WHOLE WALL of shelves in what shall become prune's room, with boxes-like things on top to store my yarn !!!!
To which laurent said "noo, you're not going to make a full yarn store, you don't need to SEE it all all the time.." But of course I do !!!!!! ;-)
I can't wait, maybe this week-end..?!!!
Comments:
of course you need to see it all! how else are you going to know what you have and what you need to buy? ; )
Post a Comment
<< Home