Monday, August 14
We've moved !!!
Monday, August 7
Another car, and fleece booties
So I made a second car, the pink and turquoise one. Encouraged by Ajour's comment, I tried my hand at embroidering around the windows but after about half an hour and trying several different stitches, I just left it plain. I sticked to my original plan and just added Xs on the wheels. (first car's wheels are too "fat", I might take them off to fix them.. maybe)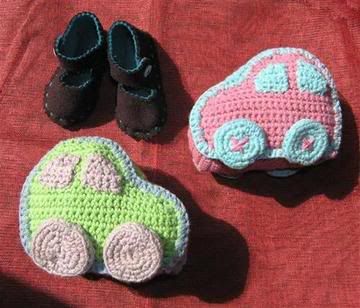 I went to the fabric / craft store on saturday (leaving the girls with laurent, makes it so much easier!) and just COULDN'T resist buying
this book
. The bag on the cover is so pretty, and some other projects are real cute too. But mostly, I like the general concept, the coordinated colors, plus now I have a little guide of easy embroidery techniques !
I also got a piece of double-sided fleece there, which I want to make a zip-up hoodie for prune with. (I'm trying to find a -super simple- hoodie pattern btw, suggestions..? I'll probably go and have a look at the library..). But I thought it would be perfect for some wee maryjane booties. I used one lonely bootie I found at the op shop for a template and a little later, here they are.Quite like them... I'll probably make a couple more for
my Etsy shop
. :-D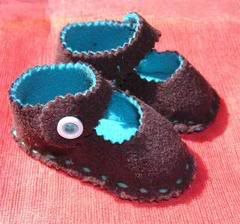 Now the question is what should I send to those 2 babies tho. I may stick with my idea (crocheted caps for the older brother/sister), but should I add a pair of fleece shoes as well..? Time will tell.
I've also cast on for the new
Glampyre/Stitch Diva sweater
the other night while watching a pay-per-view. I'm using a big cone of nice thin white mohair, it's very fluffy but I hope it'll turn out nice. I'll show a pic when I'm a bit further along...
Wednesday, August 2
Of ticks and cars
Monday, July 24
Learn a new (french) word : Canicule !
Monday, July 17
Ooops !! Isabeau tote pattern correction !
Thursday, July 13
Why I love my hooks !
Tuesday, July 11
A very mini
Thursday, July 6
Lacanau !!!
Monday, June 26
2 weeks & a bit
Monday, June 12
Finally, baby Maud !!!!!!
Wednesday, June 7
I have a date ...
Monday, June 5
Would be too easy ...
Tuesday, May 30
See that ?!!!!
Monday, May 29
Not much new ...
Tuesday, May 23
Her own way !