Monday, June 26
2 weeks & a bit
... where should I start ? Oh yeah, first, the promised pic of the beautiful placket neck pullover (from LMKG) that Yahaira knitted for Maud.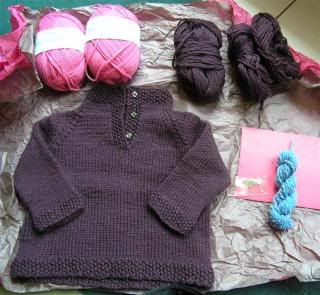 Can you guess I am obviously IN LOVE with the color she chose...? ;-) She also sent along more yarn (hat, capelet..? we'll see this winter) and Swarowski crystals that I believe will soon become divine stitchmarkers... :-P
We came back on saturday night from a full week away. My cousin's wedding and then visiting pretty much the whole family. Plus saw some friends too, coool.
And the girls..? They're doing great, really. Prune was such a nice baby we expected the worse (like "you can't win all the time"..) but no, Maud hardly ever cries at all, & sleeps and eats well. And Prune doesn't seem too jealous at all so far. (
Look at her
hugging her "lil sister" at the clinic). Mind you, there is this wonderful thing in France called "conge paternite" ( fatherhood vacation) where the dads can take 2 (paid) weeks off for a new baby. So Prune had a lot of daddy-time and it certainly made the transition easier.
And here's Maud having a nap on her daddy's tummy.(& the
uncropped original
.. ;-) )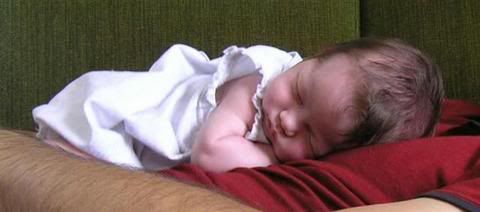 In knitting news.. not too much obviously, but I did weave in all the ends of my lime cardi. Need to attach the buttons now, hadn't brought them along. I'm also working on a very basic flared cotton skirt for Prune. Might have to rip a few rows but it's on circs, so very portable and easy to bring along anywhere. The perfect kind of project these days... ;-)
Laurent also nearly finished the "new" chez Plum yesterday. Hopefully we'll be able to put it online in the coming week ! (the blog should move over there too)
And last but not least, thanks for all your messages and comments! We're indeed very happy and it's nice to be able to share thatwith you guys..!
(and yet another baby to come chez
Karen
!!! Yeah !!)
Comments:
Your children are precious!! I love that photo of your husband napping with the baby. So sweet. I have one with my husband and my son too. Nothing like having a baby sleeping on you.
I started the Isabeau shrug pattern. What a beautiful, feminine shrug!! I can't wait to wear it.
I'll send a photo when I get it done.
Take care of yourself. :)
Post a Comment
<< Home