Thursday, June 30
a baby shrug
... I so can't resist showing it hot off the needles !! A mini shrug, sized for my baby girl. Next on the list is the same one, adult size !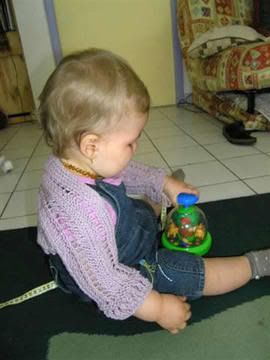 Also this morning I got the package from Maria in my mailbox : Yum, I love the LionBouclé, it's so soft, I can't wait to start on it... The Fun Fur will be a bit harder to use in an interesting project though. That still needs some thinking.
And Yeah, did you see she sent some Koolaid too ? Now I can play like everybody else.. (the only problem being whenever I smell it, I want to eat/drink it !) Thanks again Maria, I loved doing that swap with you !
Monday, June 27
..scratching my head
Okay, so I'm really trying to think hard for a name now.
So far, the only one I kinda really liked was "chez Plum", which had a soft rounded feeling I really liked. But my partner objected that my little daughter Prune (=plum in english) might not like that when she grows older, and that her name should remain only HERS. ...Hum, unfortunately he's probably right.
Then on sunday in the car (coming back from Grenoble where we had a little party for Prune's first birthday, YAY ! She's one year old now..) I thought how about "
chez Purl
" then ...?
What do you think ? It is too obvious/common ? Would it sound kind of okay ? Would it be easy enough to type/remember ? And yet "personal" enough for people to associate it with a person ..?
I tried googling it, it doesn't look like there'd already be one named like that, although obviously there are already tons of "purl" names. Not that I wanted something including any knitting terms actually, I just really liked the sonority of it.
Or else, I've just had this sudden inspiration maybe I could use some flower name (I tried fruits, but Cerise doesn't quite sound nice enough..). Like "Amarante designs" (the dotcom is no longer available though) or maybe "Capucine" or something.. ?
Again, I'd love your feedback.
Also, I've just added more stuff in my "
yarn for swap corner
". Mostly yarn, and maybe a few patterns (like I've cut this
Phildar cardi
pattern from a weekly mag before trashing it). Yeah, that's a lot, but you should see the size of my stash, all the yarn I've been accumulating over the years.
Anyhow, I'm so happy of the swap I made with maria (still haven't received her package though, maybe tomorow ?) I'd like to make more swaps: Ideally, swap some of my stash for labeled (or named, if you're sure of the name/brand that's enough)yarn that can easily bought off the internet, maybe brands such as Rowan, Cascade, Lion Brand, Debbie Bliss, Noro.. you get the idea.
Oh, and
Yahaira
, thanks for your support !! I see you're kind of in the same process too (of choosing a name)... ;-)
Friday, June 24
Time to vote !
That's it, the Stitch diva flower competition entries are online now so it's time to vote ! (also you'll get a 10% discount on your next order)
I was a bit dissapointed by the number of entries, I thought there'd be more. However, there are still a couple real cool ones.. And btw, I'm not the only one who thought of chokers..!
I'm quite happy because Maria's parcel made it alright. Guess I should receive her parcel with the Lionbrand stuff sometime soon. ...Yet more stuff to design !!! That's a lot of fun.
I'm working on several projects right now, got some pretty nice Plassard yarn the other day. I also swatched a new lacy pattern the other day (I guess you never really create anything, just re-discover something sbdy did before..). It should look good on the project I'm planning it for.
I also have to work again on my maryjanes pattern, as Tada !.. with 4 other gals we're now working on our own "rejected projects pdf book". We might not win a fortune, but that should be a lot of fun really..!
Which takes me to the name issue: I'm struggling to find a name for my soon-to-be website: "Pelotes" means skeins in french, but as I'm now mostly targeting an english-speaking audience, I'd like to find another name that would maybe include some french & english, and yet be pretty short and easy to remember. If you have any suggestions, I'd love that !
Oh, and the other day I forgot to add that I also found another goodie : That Anne Geddes picture...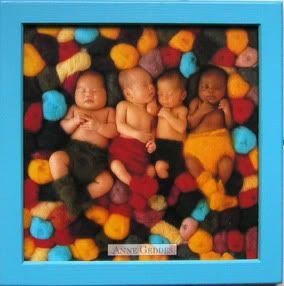 I'd seen before but thought it was too pricey.. and then this time it was only 1 euro !! So now Prune can have some "yarn" of her own.. ;-)
Tuesday, June 21
Oops
Oh yeah, sorry I forgot to say the voting for the Stitch Diva thing should start only at the end of the week (they said 24th). I can't wait to see what the others have made, I'm sure some projects will be unbelievably creative (did you see the one featured in their newsletter?)

Thanks for all the über cool comments on my choker (here & on on the crafster post). It made me confident that at least some people share my taste (!), so I may try to submit it to some places. I still have to find some yarn that can be easily bought off the internet or in US yarn stores (so far, Plassard are the only ones I can think of among french yarns..) so I'm going shopping this afternoon !! I'm also reworking a bit the design (that includes designing an embellishment option)..

Anyway, now I've realised you shouldn't show a project if you want to submit it somewhere (I'm thinking especially of Knitty's specific guidelines)I'll be more carefull in the future. Hey, I'm still so new to all that !! Hopefully I'll learn to be less impatient..

In other news, I bought some dowels yesterday (8 & 10 mm), grass-cutting nylon thread and this 5 mm PVC stick (?).. We'll see if I can make some needles?!! Hehe..

Saturday, June 18
Another choker
So yesterday was the deadline for the Stitch Diva flower competition.. and in pure sylvie-style, I actually waited till the very last minute !
I had already done a choker with their flower (see a few posts down), but had only a real bad photo of it. So I made another one, this time of my own design.
It doesn't show that well on the pics but it actually has a slanted lace pattern, and picot edging on each border. Of course the flower was their
Dusty rose
.
I couldn't really choose between those 3 pics (taken at 11 pm in the bathroom!!), let me know what you think.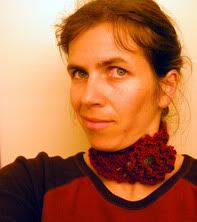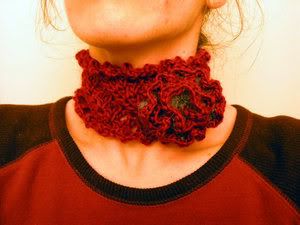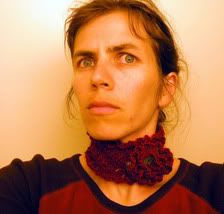 Of course I know I look so severe on the last one, but I figured this is where you kind of best see the slanted pattern..?
Anyhow, I have to frog it and reknit it now, as I made it a bit too wide (will take out one pattern repeat). Oh, and the actual colors are a deep pink and tweedy grey for center of flower. All unlabeled pure wool from my stash..
Wednesday, June 15
Loopin' !!
Yeah!! I received my "
Loop d Loop
" book yesterday (and once again Amazon was faster than announced)!! And just like I thought, this book is going to be my new (knitting) Bible ! I love that she explores new boundaries, and sets up new horizons. So inspiring. Plus I know I'm going to actually knit SEVERAL of her designs, which is not the case for many of my other books, no matter how I like them.
I really want to make a neck cowl ( if you add the top trim, you'd actually call that a "fraise" in french, ie "strawberry" ;-) ), and the yoke vest. Even though I'm not sure I would actually wear it (huh, show my arms ?!!) but still, I NEED to knit that one, it's sooo beautifull!
Now the only problem is going to be to find the right gear : the knitting scene in France is still pretty traditional, which means looking for unusual needles (8mm or 10mm circs, ...or even simply 12" circs, in any size: the lady simply said "oh no, that doesn't exist.."!) is just a hopeless quest. Maybe I'll need to do a trade, or buy them off the internet. Or maybe I'll try and make a pair: why not ?
..oh, and of course I need to dive into my stash for that "perfect yarn".. We'll see what I can find.
Anyway, speaking of trade, I just sent out today my parcel for Maria (don't look if you still want the surprise Maria!), who generously offered to send me some Lionbrand yarn to use for the contest.. So here's what I sent her:
She wanted that particular phildar book (#391), and I was lucky enough that the lady still had one in stock.. Plus a skein of the yarn used for the cover sweater she liked so much (I figured it will make it easier to find an appropriate substitute.. also it's so hard to chose yarn for sbdy you don't know!), some lavender stuff as she said she loved it (sweets, soap, bath oil, and dry lavender..) and a few yards of grey angora light enough to fit in the parcel.. Can always soften the cuffs of a sweater..?
Oh, and the pink angora/silk yarn she chose from my stash !
So there we go. Now let's keep our fingers crossed that the parcel actually makes it !! This is always my worst fear.
Thursday, June 9
Al last !!
I've been waiting for my
summer IK
issue to arrive for sooo long I was starting to think it had been "lost".. But it did make it after over 6 weeks of shipping! I really wouldn't get a subscription in the end, the wait would drive me insane !!
A lot of the projects are really very pretty but I have a sneak suspicion those may be my first priorities :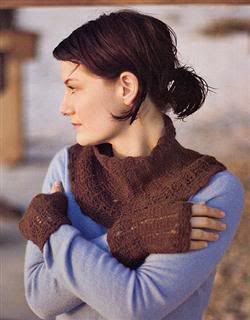 The brown set because I love to have something warm around my neck. And the lacy kerchief at least partly since I saw
that one
!
...And I said I wasn't a scarf person ? Yeah, but it's more about lace than scarf really .. ;-)
But back to my knitting : the deadline for the
Stitch Diva flower competition
is next Friday !! I probably won't be able to submit much, but it's always fun anyways.. I've finished the nearly gloves, except I have to redo the seams... I might take a pic when I'm done.
Hehe.. Did you see I've added a button in my sidebar ? I'm so proud !! :-) I know I'm still far behind but every step counts, right ?
Tuesday, June 7
Someone want to swap some yarn with me ?
.. Because there's this
Lion Brand design contest
I'd really like to participate to, except that I don't have any of their yarn !
So I'm looking for somebody who'd have a couple odd balls of Lion Bouclé ( + maybe a bit of Fun Fur), and would be intersted in swapping those for some yarn of your choice from my stash. I've really got tons, and many gorgeous ones too. (Or say you want some phildar/french stuff...?) Please just let me know.
Monday, June 6
Not so much to show
Wow thanks guys for the cool comments !! And
Christine
, you're so nice ! I'm touched. I've been admiring your awesome
Lelah
for quite a while !!! But Hum.. I'd have to add straps !! ;-)
I don't have much to show this time, not that I haven't finished anything, but I really want to set up a little "shop" area with some patterns, maybe kits, ... (plus hopefully, a "rejected projects pdf booklet" which would include several of the SnB crochet projects that were rejected.. That's sooo exciting !!!)
So in my FO's there's this little (crochet) baby-shower project I whipped up that I'm particularly happy with ... but I don't want to show it too early.
As you can imagine ,I'm doing a lot of thinking these days about how to set it up, ect ...
But you always need a little project going, dont'you..? So yesterday night I casted on a pair of
"nearly gloves"
by Marnie Mc Lean with a skein of Phildar Maritza from my huge one-skeins pile (as 95% of my stash comes from Op shops..)
In other news, did you know about the awesome
Mango Moon yarns
& (free) patterns ? I especially like the shrug and Neru cardi...
I sooooo need to get some of that recycled sari silk soon! And even more since I saw
that
!
..Oh, and the new
Spun
issue is up ! I really like that mag, I wish I can submit something there soon. (Argh, so much to do !!)