Saturday, June 18
Another choker
So yesterday was the deadline for the Stitch Diva flower competition.. and in pure sylvie-style, I actually waited till the very last minute !
I had already done a choker with their flower (see a few posts down), but had only a real bad photo of it. So I made another one, this time of my own design.
It doesn't show that well on the pics but it actually has a slanted lace pattern, and picot edging on each border. Of course the flower was their
Dusty rose
.
I couldn't really choose between those 3 pics (taken at 11 pm in the bathroom!!), let me know what you think.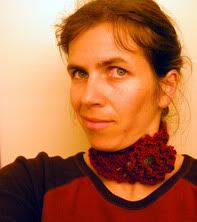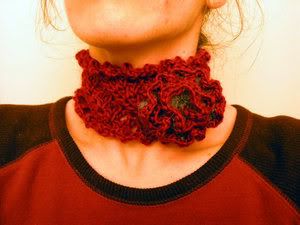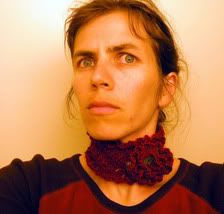 Of course I know I look so severe on the last one, but I figured this is where you kind of best see the slanted pattern..?
Anyhow, I have to frog it and reknit it now, as I made it a bit too wide (will take out one pattern repeat). Oh, and the actual colors are a deep pink and tweedy grey for center of flower. All unlabeled pure wool from my stash..
Comments:
Hey! Awwww shucks! I think you have THE BEST taste! I loving ALL of your fo's! And I am so glad to hear that someone else is still awake at 3 am and doing knitterly things! Yey!
I have to get that loop d'loop book! I saw that steeked tank on craftster and am soooo intrigued!
I have been so busy, a rare occurance for me these days, and finally the dust is settling and I can get back to blog world!
j'adore le choker :)
it looks great good luck, how do I vote? I tried the link, but I'm not sure where to go to vote.
Post a Comment
<< Home