Tuesday, February 28
Sheryl, my hero !
Can you believe thanks to
Sheryl
's help, the XL size for the
Isabeau shrug
is finally available ?!!!! She made hers with rayon yarn as her Olympic project, simply gorgeous !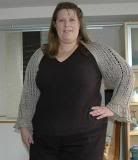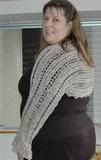 As for me, I've been working on some buttonholes issues for the choker pattern but it's coming along nicely ... Thanks Yvette for your help with that.
I've started a (crocheted) box for my WIPs, still needs a lot of rows to fit nicely inside the living-room cabinet. This way it will all be nice and organised, no more carrying around all the stuff and losing needles and pens along.. !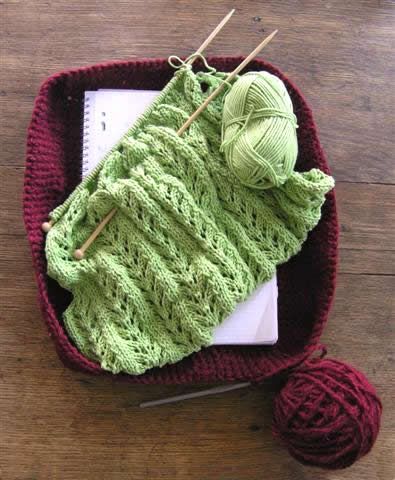 Inside, you can see the nearly-finished back of a spring cardi I've started. I know, I said I really wanted to start on my hoodie and still do, BUT I so can't wait for spring !! ... Couldn't resist the call of that lime cotonina !
I'm still not too sure about the lace pattern though but we'll see how it goes with the whole shaping and all.
Oh, and I need to make a second tomato for Prune's cousin. We're going to his birthday on thursday...
Thursday, February 23
Prune's new toy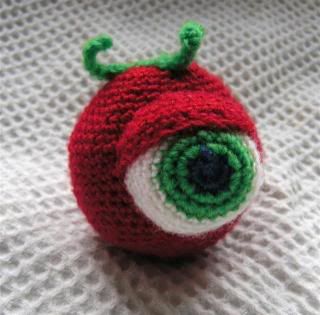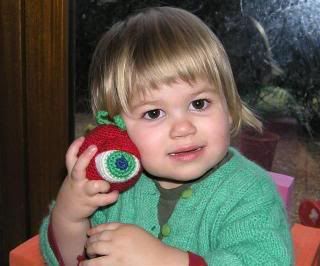 ... a
Psycho Tomato
!!
I had a bit of a hard time getting started on it this morning: am obviously not a crochet expert !! But after a false start, I got into the groove again and it took only a few hours to make. I really LOVE LOVE the popping eye, do check Regina's stuff at
Monster crochet
if you haven't yet ! Now I'm thinking it would make a great cushion, with a real big hook and double or triple stranded yarn.. We'll see. But that was already a great use found for some of the cheap acrylic odds and ends that plague us all.. ;-)
And look at prune posing for me. She was like "encore, encore" (again, more pics !)
Wednesday, February 22
Better choker pics
Just took some better pics. With the finally-finished detachable flowers.



Closeups of the
slanted lace
choker,
lacey cable
choker and
flowers
.
Pattern should be available by next week
chez Plum
.
(...And thanks to Nicola and Yvette for helping testing it !! ;-) )
Monday, February 20
Fighting with the stash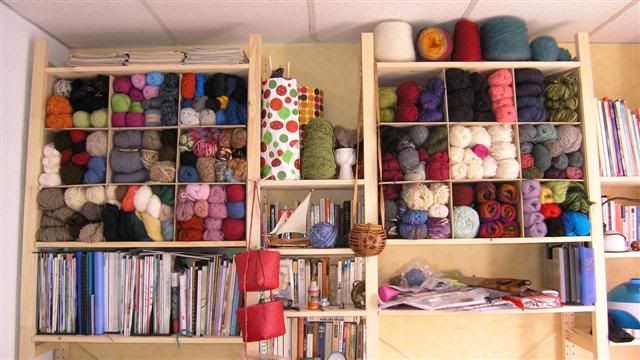 So here I was this morning. Thinking "Phew", I've nearly got all of it in there ! (except the crap of course, which shall stay in my plasticy 5-drawer thing; and the rest, still stored in Grenoble.. ;-) )
Please ignore the mess btw, it's an in-progress pic...
But I still had that feeling, like, Hey, where are the 2 skeins of Any Blatt Merino though... So I went and checked under the bed. Yep. There it was. The
third bag
!!!
Now I just have to try and fit in the best of what's in there.
But anyhow, even though it's quite obvious that a lot of my stash is made of bits and pieces and crap, I'm already super happy whith those new shelves. Now it will be so much easier to plan what I need to use up and what I can use for each project ect...
I'll take a pic of the full room when it's all done btw. :-D
The chokers are done, and blocking. Of course I had to do yet some more modifications, but I'm really happy of the result. They end up looking so much neater than my first "prototypes". So I guess it was worth the wait...!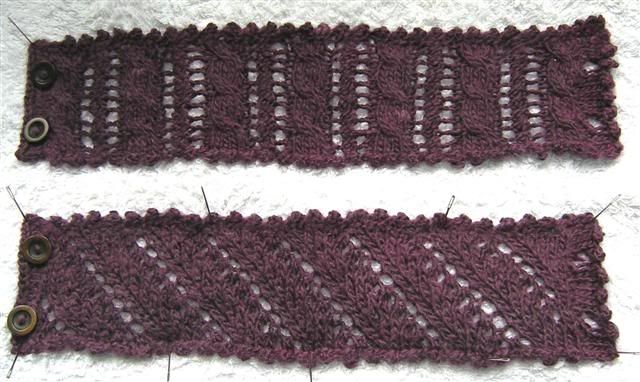 I hate to show you that pic, really doesn't do them justice, but wanted to check already whether there'd be 2 volunteers to test the pattern. I'm still working on embellishment options, but other than that the pattern is fully written and I'd really like it to be typo-free when I start putting it for sale..!
(deal is: I'd like each tester to make one choker, preferably within the week - I know, the Olympics!!- with whatever crap yarn, even if it doesn't meet gauge at all. I just want you to look for typos, or tell me what's unclear.)
Please email me if you're interested. (sylvieATchezplumDOTcom)
Oh. And who wants
this pattern
? I got it in a mag the other day (of course it's in french !!). Just send me an email and I'll send it to you.
...& btw, more patterns & yarn (for swap this time)
here
! ;-)
Wednesday, February 15
Miss red daisy
Here she is, modelled while trying to tuck in my tummy as much as possible !! ;-)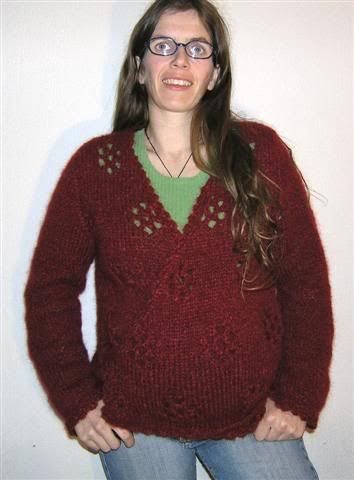 She's a delight to wear, and fits quite well. Although I'm wondering wether size small would have been better. I wasn't too sure and chose the Medium so I could wear it this winter too... We'll see how it goes after the baby !
Otherwise, it was all a breeze, and I'm delighted to have it already finished. Man, 2 sweaters for me in like only one month when I hadn't knitted one for like over 10 years !!!!
Anyway, it's also good because it means I can move on to the next thing, and my list of super-priority-project is pretty long at the moment. Now that I have the yarn, I really really want to make the chokers. Hope it works well with the Synchronicity (last yarn I tried was great and soft and beautiful, but lacked of relief).
Then I'm very excited about a lacy hoodie I want to make. It's all there in my head, and I really hope I can make it as nice !! Here's my first swatch, for what should be the "roses of Saadi" (after a poem we learnt at school)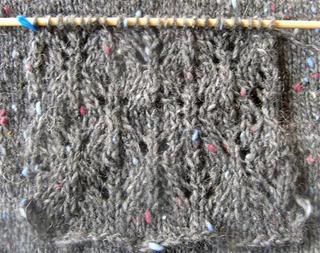 ..Oh, and of course if I were reasonable, I'd also finish the pattern for the
Mouchelette
. We'll see.
Tuesday, February 14
A Kal !!
Yeah ! Can you believe
Emmie
started a
knitalong on Crafster
for the
Isabeau purse
?!! She made a very nice one too, as well as
dancingbarefoot
: see the new pics in my
Gallery
!


Which reminds me, I can't wait for the first pictures of the totes, and more shrugs ... I'm thinking like a free pattern of your choice for the first pics ...? ;-)
(and don't worry, there should be new patterns available VERY SOON)
I've now also got all my new yarn :
The Phildar
Aurore
arrived last week. It's going to be discontinued soon, BUT is a close equivalent of the yummy kidsilk Haze : nearly equivalent yardage and gauge, also 70% mohair ... silk replaced by acrylic and such BUT for like 1/6 of the price !!! So I bought lots... :-D
They're 50 g / 450 m skeins, and it says you need 2 for a sweater. The plan is to start with a lacy vest.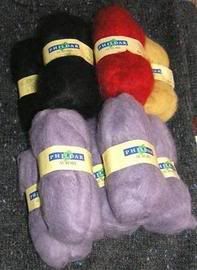 Generous Phildar also gave me this
fantabulous
needle cozy (?)... This is ironic of course, here in France Phildar is more like Berroco to you guys, nothing to be really proud of so that you'd want to show off their colors... Like give me one that says Noro on it, and I'll be dancing !!! ;-)
Then yesterday, my
Get knitted
order arrived ! 8 skeins of Kureyon (color 138) to be a one-in-a-lifetime-perfect-cardi someday (question to you experienced with kureyon: is 8 enough for a small cardi ?)
One skein of Kidsilk Haze to check the compatibility with the Aurore, ..and finally one hank of
Alchemy Synchronicity
(in foxglove) for my chokers... a pattern that's been waiting in a drawer for months and months now !!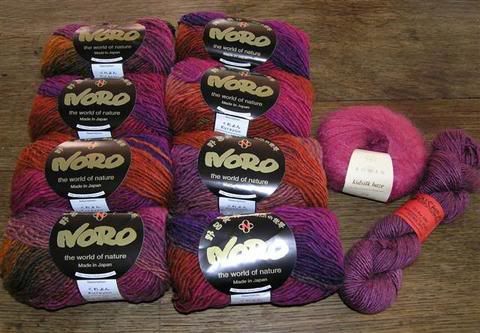 Yesterday I also went to Lyon to get my new shelves at Ikea. Ta da, I should be able to get all my stash organised soon !!
And finally, the red mohair cardi is nearly finished. Crochet-seamed it all together already, I'm now doing the crochet edgings. Of course I had to look over the definition of the "demi-bride" (= half-double crochet) and redo what I had started, but I think I've got the hang of it now and it looks pretty. Plus it keeps the borders from rolling: I'll probably be able to skip the blocking and wear it right away, yippee !! Photo coming hopefully tomorrow ?
Tuesday, February 7
I bought yarn.
I did it. Went on a yarn binge. Probably a very small binge for other people but it's like the first time I buy real expensive yarn and end up buying more than just 2 skeins at a time... I guess there's always a first time. And I'm not feeling overly guilty because I'm using my "own" money (got the money for the fancy scarf !!! :-D) and about 3/4 is for future patterns/projects....
Except the Kureyon! But I figured for once I ordered online, I just couldn't wait any longer..!! ;-)
Which leads me to a question. I really love the cardi on the cover of the
Debbie Bliss "Noro collection 1"
book. But it seems the book's discontinued. Any chance someone would have a copy they no longer want (yeah, dream on !!), or know of a place where you could buy one for me ? (paypal or swap). You know, just asking...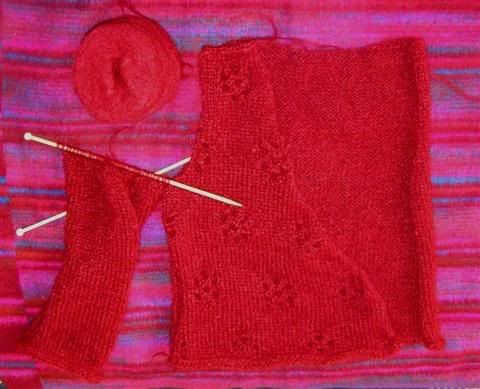 I'm nearly halfway with the red mohair crossover. (don't think it was a smart move to photograph red on pink though, oversaturated the whole thing!) Goes really fast, but I just haven't spent much time on it lately. Prune 's been really sick since thursday (high fever without any other obvious symptoms, I ended up going to the doctor 3 times in a week!! much better today though). Also, I realised even plain stockinette but with a few decreases or a super simple chart to follow is hard to concentrate on when she's around.. !
So anyhow, I managed the back, right front and a half sleeve so far. Although I'll have to redo the top of the back. Messed up the instructions: when they said decrease for armholes on every row at beg. of row, I assumed it
did
mean dec. on every row. Wrong. So okay, I now realise what they meant, but still...
Oh, and I told you about my friend anouchka coming the other day..? Guess what. She left with the leftover tibetan yarn for a yoke vest, and all the gear for it !!!! Apparently she also plans on making several other projects from the book... Hehe, another convert !!! ;-)
Wednesday, February 1
It's a girl !!
I had my second ultrasound a couple hours ago.. and we're having a second girl !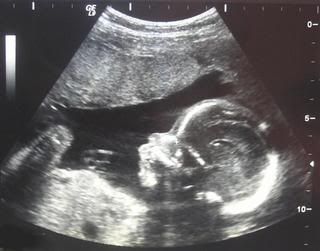 With this second pregnancy SOO different from the first and everybody telling me it'd be a boy, I was kind of prepared for a little guy, but no.
So it's cool, I'm slowly getting used to the idea. A team of girls. I had no sister (2 brothers!) and am always a bit curious (jealous ?) of the particuliar bond between sisters...
And oh. No new clothes to buy !! We can re-use all the cute girly stuff.. . ;-)
In knitting news, I'm nearly done with the back of the cardi. Goes fast really, but I just haven't been able to spend time on it lately, with my last papers for uni (Phew, it's all over now !! And I even got some surprinsingly good marks, am still floored !!) and family reunions and all...
Will try to squeeze in a few hours on it today before my friend Anouschka comes for the afternoon. I still have a hard time figuring what it's going to look like in red, but at least I like the way it knits so far, warm and fluffy, but not too dense.