Tuesday, February 14
A Kal !!
Yeah ! Can you believe
Emmie
started a
knitalong on Crafster
for the
Isabeau purse
?!! She made a very nice one too, as well as
dancingbarefoot
: see the new pics in my
Gallery
!


Which reminds me, I can't wait for the first pictures of the totes, and more shrugs ... I'm thinking like a free pattern of your choice for the first pics ...? ;-)
(and don't worry, there should be new patterns available VERY SOON)
I've now also got all my new yarn :
The Phildar
Aurore
arrived last week. It's going to be discontinued soon, BUT is a close equivalent of the yummy kidsilk Haze : nearly equivalent yardage and gauge, also 70% mohair ... silk replaced by acrylic and such BUT for like 1/6 of the price !!! So I bought lots... :-D
They're 50 g / 450 m skeins, and it says you need 2 for a sweater. The plan is to start with a lacy vest.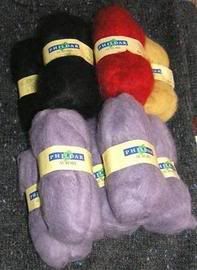 Generous Phildar also gave me this
fantabulous
needle cozy (?)... This is ironic of course, here in France Phildar is more like Berroco to you guys, nothing to be really proud of so that you'd want to show off their colors... Like give me one that says Noro on it, and I'll be dancing !!! ;-)
Then yesterday, my
Get knitted
order arrived ! 8 skeins of Kureyon (color 138) to be a one-in-a-lifetime-perfect-cardi someday (question to you experienced with kureyon: is 8 enough for a small cardi ?)
One skein of Kidsilk Haze to check the compatibility with the Aurore, ..and finally one hank of
Alchemy Synchronicity
(in foxglove) for my chokers... a pattern that's been waiting in a drawer for months and months now !!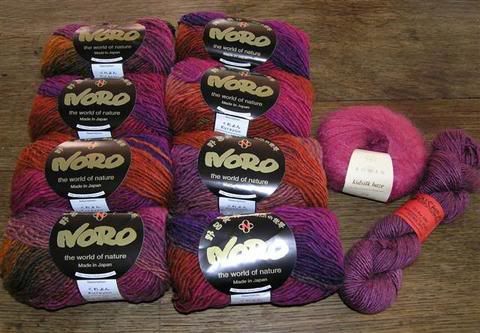 Yesterday I also went to Lyon to get my new shelves at Ikea. Ta da, I should be able to get all my stash organised soon !!
And finally, the red mohair cardi is nearly finished. Crochet-seamed it all together already, I'm now doing the crochet edgings. Of course I had to look over the definition of the "demi-bride" (= half-double crochet) and redo what I had started, but I think I've got the hang of it now and it looks pretty. Plus it keeps the borders from rolling: I'll probably be able to skip the blocking and wear it right away, yippee !! Photo coming hopefully tomorrow ?
Comments:
ils arrete Aurore ? bah ca alors !
avecta Noro tu drvais avoir assez pour une cardigan manches 3/4 (comme mon Lizzie)
j'adore la couleur de ta KSH !!!
Post a Comment
<< Home