Monday, December 26
Of scarves and boots
Well first, I hope you all had a really nice Xmas with your family or friends around.
We did. It was nice, but tiring as usual. Yesterday we went to bed at 8.30 !
Plus I had been a bit sick all week before (after prune of course), and add finishing knitting and crocheting my last presents... You get the picture, I now have to catch back on emails and stuff. And my voice is off completely. I can only whisper...
Anyhow. Despite all my grand initial plans of chokers and knecklaces and gloves and mittenettes ect.. my little basket filled only with scarves in the end ! But they were cool, and my sisters in law and mom in law all picked one (or more !)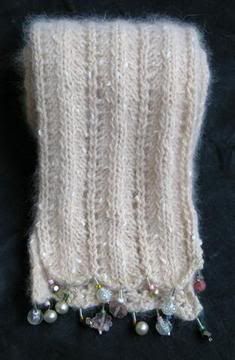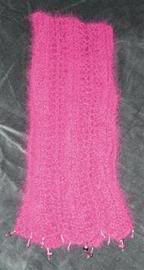 And this "tentacles" (crocheted, and after a pattern for once!) one I finished only about one hour before giving it... Here are my two really cool sis' sporting their new scarves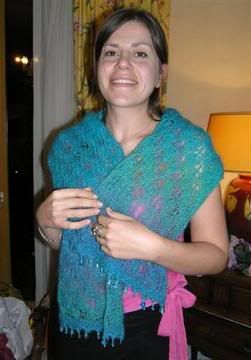 ..And can I just add 2 more pics ? Look at my ugg boots my sis' caroline offered me, I love'em so much I hardly took them off since (except to go outside, don't worry) plus with my cold and being so tired it's just what I need these days to keep my feet warm enough. Oh, and there was only Shweppes in my glass.. ;-) Which reminds me, would you believe I "realised" I'm pregnant this week-end. ...or rather, because there was a big mirror in the bathroom at that place where we stayed, I realised I actually do look pregnant now ! And I earnestly thought my tummy was still pretty flat and it didn't show.. Well, it does !! :-D
And this sweet Xmas card my parents gave us. It's just so special with the sidecar, seing the
trip
we did. My parents are real sweet.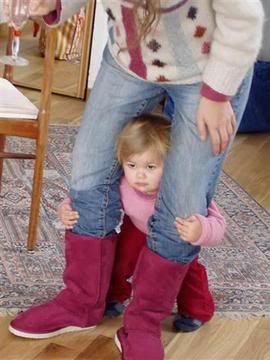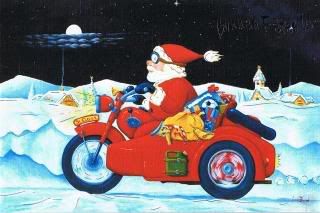 Monday, December 19
More blues !
Really, it's not on purpose but it seems all my fos lately are in blue-greenish tones.. Not for lack of other colours in my stash though.. ;-)
On saturday, I finally decided on the perfect use for that cotton yarn that I had been saving for a long time for THE right project (..plus what do you do with only one skein anyways..? Who am I trying to fool?) and tried my hand at some potholders. Turns out I LOVED the outcome, so much that I quickly made a second one for which luckily I still had enough leftover. Anyways, the second one, although probably more adapted to its use (ie. without eyelets right above fingertips) I MUCH less like, ...so hehe, I guess only that last one will go in the gift basket... Is that mean..? ;-)
#1:
and #2:
Then I had that novelty yarn (probably old french brand, "st André". Thin sparkly blue-green-yellow stuff with big mohair tufts) that looked interesting, and I first planned to make some kind of
curlicue scarf
, but finally realised it must involve zillions of increases and knitting on real small needles, ... too long ! So I tried and swatched, that yarn alone, or together with golden-yellow Phildar Aurore (very thin mohair, alas discontinued !), small needles, big needles...and finally decided on my biggest size crochet hook (10 mm!). And this is what I got. Nothing exceptional, but I'm real glad about it because I feel I really made the most of that yarn. It's super light and soft, Yum !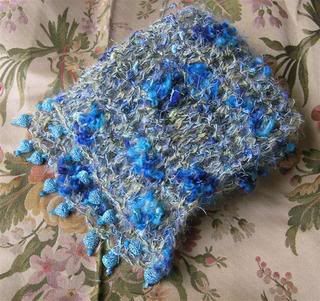 Laurent said it looked like a "movie star scarf", I'm curious to see whether/how his sisters like it ..?
Then yesterday I had a little blocking party (encouraged by your comment
Marie
), so the greenish lacy scarf only needs a few beads and it shall be finished. Pics soon.
Got more done on the "bobbles" fancy scarf too. Maybe 7..? I guess that's about half of it done. Might be ready for Xmas, who knows ?
Oh, and finally, look at what I got in my mailbox last saturday ? This fantastic hank of Fleece Artist Merino (250g, 800 m !!) sent by
stephanie
as "thank-you yarn for the article"... Wow. There are just no words to tell you how I like this yarn. Those colours !! (there's actually more turquoise in the mix than it shows here, I really have to re-parameter my camera !)
Tuesday, December 13
Not very reasonable..
So I have this Sociolinguistics oral presentation to prepare for thursday, and a Translation studies paper to write (same deadline), and yet what do I do ? crafts... Not very reasonable.
Actually, it's really hard to work with Prune around. Like I tried this afternoon, but she'll stick around me, pulling my papers and requiring more mommy attention !
On sunday night I finished the greenish lacy scarf (I mistakenly wrote blueish the other night !!) and got some nice little cristal beads to go with it. It badly needs blocking though, and I'm not sure where to do that. On the couch after prune's in bed, or on our bed during the day..?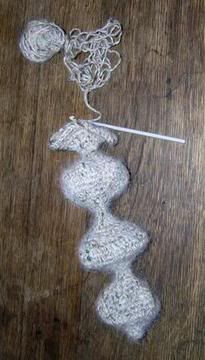 My fancy scarf is now about 3 1/2 bobbles long, haven't touched it much since sunday. And as if that wasn't enough, I started yesterday night a pair of fliptop mittens. (I tell you I'm not reasonable !!) Used a free pattern (with mods.. didn't feel like using dpns !!!) to get the hang of it but will now frog it and start anew with further modifications and new numbers... I think they're going to be cool. Just imagine reddish apparent crochet seam to join the sides, maybe some tassel somewhere, some kind of embroidery OR relief cable (bobbles ?) on top... and maybe I'll dye them in green because this blue is ...well, very blue !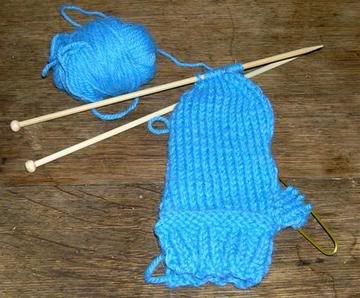 Then yesterday I made some gittle girl necklaces. One for my niece to add with the pink hat and purse, one for prune (and her doll. Here modeled by the kiki), and I even had enough beads for a third one...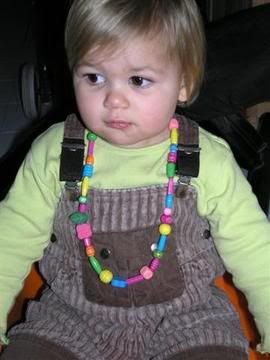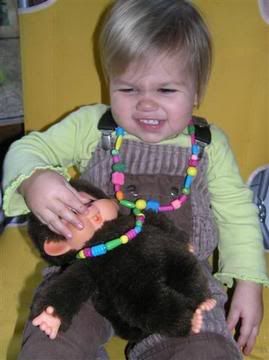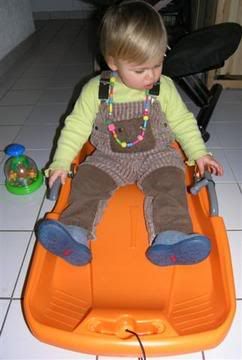 .. yeah btw, prune is ready for winter. She loves her new sledge, doesn't even seem to need snow.. ;-)
Sunday, December 11
Little indulgence
Just bought 2 patterns I've been drooling over for ever, Kate Gilbert's
Elisabeth
and Annie Modesitt's
silk corset
. Yum !! The corset I might not make for myself, but it's just too beautiful for words. And I'm just in love with the elisabethan collar. I have to figure out which yarn to use. So many projects.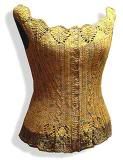 ..And have to go back to my needles, am nearly done with the blueish lacy scarf, it only needs a couple last rows, finishing and a good block. If only I could find that pouch where I've stored all my beads.
I've also started on another
Fancy scarf
, this time with an angora-ish yarn. Got 3 "boobles" done already tonight while semi-watching "wyatt Earp". Good news from the first one btw, looks like it might sell. And sally the owner even said if I make more they'd love to carry them.. :-D
Monday, December 5
Xmas pressies : one more down !
Just finished a little set for my niece who lives in Reunion island. It's summer there - and pretty much all year round- , so I had to find ideas for summer knits.. ;-)
Apparently she looooves bags so I made her an
Isabeau purse
(slightly modified with no button for safety, and 2 handles like the
tote & handbag
..), and an assorted hat which I quite like. I'll probably rework it and make it an actual pattern.. ;-) (with another lace pattern & an adult size)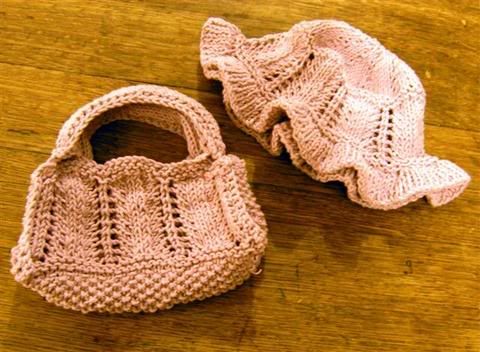 But prune skipped her nap today, so she won't model them and I had to resort to a table shot...
EDIT :
today (ie next morning) prune decided she'd make up for scaring the hell out of me when I saw her playing with my glasses (and thought she had broken them in 2 pieces like she did to my sunnies). So she grabbed the hat and purse to model them for me. Sometimes she's just so sweet !! And look at her half closing her eyes not to be blinded by the flash..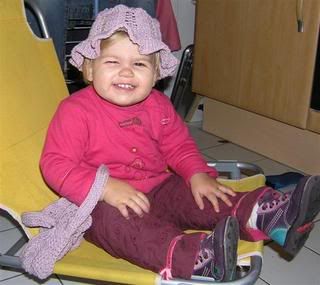 Oh, and today she got her first ever hair cut. Her dad eventually gave his green light ;-) so I cut all the uneven hair down her neck. I like it, she looks more like a little girl now...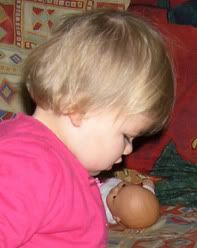 Friday, December 2
A new pattern chez Plum !!
That's it, at last the pattern for the
Handbag and Tote
is ready to go. Check it out
here
.
And I just finished a pair of
little mittenettes
with a skein of Phildar Nebuleuse. I was hoping for something approaching the
very beautiful ones
Marnie Mc Lean made recently.. but the boucle yarn makes them a bit weird. Well, we'll see if somebody likes them for a Christmas present (I plan to put everything in a basket and let them choose what they like).
They're just plain rectangles, with one lace pattern repeat on the top of the hands, and plain stockinette for the palm. And one row of single crochet around the thumb opening..
Oh, and thanks so much for all your congrats and comments ! I'm just not very good with replying and emails..