Monday, December 19
More blues !
Really, it's not on purpose but it seems all my fos lately are in blue-greenish tones.. Not for lack of other colours in my stash though.. ;-)
On saturday, I finally decided on the perfect use for that cotton yarn that I had been saving for a long time for THE right project (..plus what do you do with only one skein anyways..? Who am I trying to fool?) and tried my hand at some potholders. Turns out I LOVED the outcome, so much that I quickly made a second one for which luckily I still had enough leftover. Anyways, the second one, although probably more adapted to its use (ie. without eyelets right above fingertips) I MUCH less like, ...so hehe, I guess only that last one will go in the gift basket... Is that mean..? ;-)
#1:
and #2:
Then I had that novelty yarn (probably old french brand, "st André". Thin sparkly blue-green-yellow stuff with big mohair tufts) that looked interesting, and I first planned to make some kind of
curlicue scarf
, but finally realised it must involve zillions of increases and knitting on real small needles, ... too long ! So I tried and swatched, that yarn alone, or together with golden-yellow Phildar Aurore (very thin mohair, alas discontinued !), small needles, big needles...and finally decided on my biggest size crochet hook (10 mm!). And this is what I got. Nothing exceptional, but I'm real glad about it because I feel I really made the most of that yarn. It's super light and soft, Yum !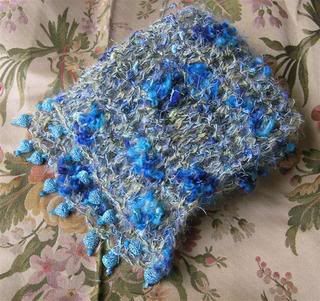 Laurent said it looked like a "movie star scarf", I'm curious to see whether/how his sisters like it ..?
Then yesterday I had a little blocking party (encouraged by your comment
Marie
), so the greenish lacy scarf only needs a few beads and it shall be finished. Pics soon.
Got more done on the "bobbles" fancy scarf too. Maybe 7..? I guess that's about half of it done. Might be ready for Xmas, who knows ?
Oh, and finally, look at what I got in my mailbox last saturday ? This fantastic hank of Fleece Artist Merino (250g, 800 m !!) sent by
stephanie
as "thank-you yarn for the article"... Wow. There are just no words to tell you how I like this yarn. Those colours !! (there's actually more turquoise in the mix than it shows here, I really have to re-parameter my camera !)
Comments:
There is nothing wrong with keeping the potholder you like more! Hee hee. :) That Fleece Artist yarn looks so yummy!
Post a Comment
<< Home