Tuesday, August 30
Mouchelette
I finished the Mouchelette yesterday night. And Prune's wearing it today of course !!! ... I know, at first sight it looks exaclty the same at the first "prototype" but Nah.. scroll down to the aug. 11th post. See the difference ? The sleeves were too narrow, the top of the chest area was way too wide, etc...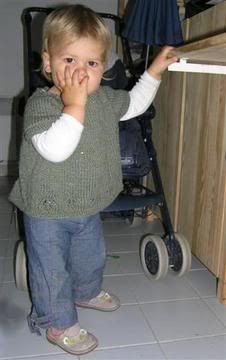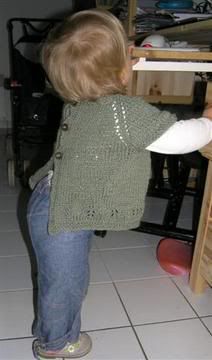 I'll try to take better pics later, especially of the little motifs along the bottom, but she doesn't make it easy. Also I need to add the 2 last buttons. I thought I'd like it this way, but it jut stays wide open in the back, and that ain't too good.
The top is actually more fitted at the top, and then there are increases to make it flare a bit. (come on, if you really look hard you can kind-of-see-it in the lat pic..) I really like short sleeve tops for her, I find it more versatile. Otherwise with regular long-sleeve cardis she often gets too hot inside, or gets her hands all tangled-up in the sleeves ect... But I may knit her also a long-sleeve version.
And of course, this top can also be used as a regular cardi. Kind of a "two in one"... ;-)
I'll be writing up a pattern for it soon, and size it up and down, but I think I'm going to try and make the
Isabeau handbag and tote
first. And I'll be off to get more yarn for those in a minute as soon as prune wakes up from her nap ! Still not sure of the colors I'll choose though...
Monday, August 29
Tote-size
Yesterday we went on a little hike in the Aravis, the part of the Alps that sits just beside Annecy. So we went to the "confins" near the ski resort of "La clusaz". Was super pretty, wide bowls (?) and sharp mountains, pine forest and dry grey rock. Plus the unexpected bonus of finding lots of strawberries on the way.. And lots of cows for Prune to see..!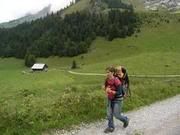 Don't be fooled by the pics though, Laurent carried her most of the time... And on all the steep slippery muddy parts of the hike too ! He thought it would be a quick easy walk, but we ended walking like 3 hours and then could only think of sleeping when we got back. Was it the altitude ? Or have we just become blobs ..?
I really haven't been knitting much lately, with having Prune all the time here (daycare is closed in august) and all. Third take on "Mouchelette" should be finished soon. Only a few rows left, then try it on Prune, and if it's right do the sleeves and finishing.
Prune's been wearing her mini-shrug a lot lately, I really like how it looks on her and can't resist showing it again...
I'm not sure what to do with this kind-of-variation-on-the-pattern though. A fully written bonus on the adult pattern? Just a few notes on the numbers used ? Would anybody even want it in the first place ?
I also have another project on the grill now. I had been thinking of
upsizing the Isabeau purse
, as most people (including me!) use larger size handbags... And now there's two people asking for it, so I'll take that as a good enough excuse. ;-) I've already decided on what I'll do pretty much, now I have to try and knit it and see how it works. Hopefully I can do that this week.
Oh, and Laurent started working on the future design & navigation for
chez Plum
this week end. I can't wait till we can put it up, even though it probably shall take another month or two. (for now, it's just one of the Wordpress free templates). Can I just say I LOVE it..?
Thursday, August 25
Can't even think of a title now...
So we've had troubles with the computer and connection for a while now. But all this was nothing. Today all my "knitting" files disapeared. Yes, ALL.
I mean, ok there was my huge collection of patterns, either free patterns collected all around the internet, or just scans stored there.. But I just found an old backup from back in march, plus a few things stored here and there (hopefully I still have all those that were sent to me in Outlook express..) so it shouldn't be THAT bad. Maybe I'll get back like 80% or so..

But then, there's all the rest. ALL my pictures of FOs and projects, all my designs so far, ALL my patterns..including at least one that I have NO copy anywhere. And that was ALL after the march backup. But for the things stored in photobucket, it's all gone. Thank God I have copies of the shrug and purse pattern via sent emails and in the site.
Boo.
And you know the worst ? It's about the ONLY big thing missing in the disk after the major failure we had this morning. Mind you, I should have known and made back ups after all the warnings we had. But I just couldn't believe this could ever happen.

Will be back later.. I'll do a backup of all the pics of Prune now.I guess it IS more important that those didn't get "swallowed" at least.

Monday, August 22
I didn't take a pic..
but I finished my second take on "Mouchelette". Wasn't perfect yet (but I'm not sure I'll get it "perfect" anyway..) plus there was too many knots right in the middle (was knit directly from #1) so I frogged it straight away. It's such a small piece. I guess I'd have it done in a day or two but for Prune.. We had a crappy weather all week end, drizzling endlessly, so it was a full time job trying to keep her somehow entertained indoors.
I installed a counter/referer thing. If you don't have one already, check out
www.statcounter.com
, their free service is awesome. So I'm spending hours checking out my traffic, seeing what part of the world people came from (2 from switzerland, one from belgium, and several from france : Hi neighbours !!!). It's fun.
I'm getting a bit worried about my "paypal buy now" button. Anyone have an idea wether the problem comes from me or them ..? I've just emailed them to ask, but I'm not sure how long it will take them to reply.

WHOOHOO !!
Laurent just helped me fix my paypal button to
buy the Isabeau shrug pattern
, it should work now !!!! But one thing is for sure, I don't think I could have done it without him... :-D
I think I may also try and get my entry done for the Crafster
"no yarn allowed"
craft challenge. As usual, I'm getting into gear just before deadline.. (although I did get my "materials" several weeks ago).
So okay, let's get started on it. Will keep you posted.
Saturday, August 20
Nautique
So I received a package. I thought it was from a swap or something.. But no : I actually WON something !!! Yeah, there was this competition-thingy in a french mag where you had to send pics of something you designed yourself and could win a Phildar yarn kit or a subcription to their mag. So here's what I got :
Keep your greetings though.. Last time I looked, it seemed like there was more prizes than entries.. ;-)
However, it's always good to get free yarn, right ?!!
Now, I don't like the color, and don't really see myself using it in a while. Would anyone be interested in a swap or something ..?
It's 10 skeins of Phildar "nautique", colour "fidji", brand new in their packaging. 50% cotton, 50% acrylic, 50g=152 yards, recom. gauge is 25 st/35 rows on 2.5 - 3mm needles (US 3-5). And the colour is a tad lighter (and "greener") than it shows on pic..
Oh, and I just made my first ever "Paypal buy now" button for the Isabeau shrug... :-D Hoohoo!! It's over at
chez Plum
of course...
EDIT:
However, the said paypal button keeps leading me to a "temporary paypal" thing, "try again later". Did I do something wrong with my button ?!!!
(also, I'm starting to get spam comments. Is it going to happen often when I start having more traffic ?... :-/ )
Friday, August 19
My "rouet"
Huh Huh Huh !! See that ? I have no idea what you'd call it in english, but in french it's apparently called a "rouet".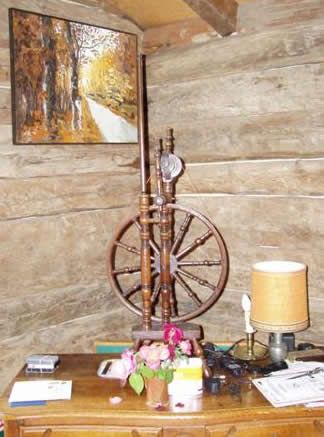 It's been sitting in the family cabin for ever, and this afternoon my grandparents said they're giving it to me. Yes, ME !! Ha, I still really can't believe it. I hope I'm not wrong thinking it was used for spinning.. I REALLY want to learn to spin someday.
Wednesday, August 17
Isabeau purse
Okey dokey, so the free pattern for the Isabeau purse pictured below is
here
. I've added the link in the sidebar as well..
Laurent has also installed Wordpress as an in-between for me to "play" (that's his words) until we put up the real thing. :-D
So if you're really bored, you can see the premices of
chez Plum
..!
And finally, for those of you who DO knit the purse, I really want to add a gallery of your knits: I'd love to see your pics..!
Tuesday, August 16
Connection issues
Well it sucks. We're having connection problems, so the connection goes on and off randomly. And it's not even our ACTUAL internet connection, just our internal network connection. Like the other computer will work fine (the Linux one..) but not the one I have all my stuff on. So I keep on starting on something, then the connection will be off suddenly without warning, and there's nothing to do but wait, or maybe turn off the thing, wait a bit, and start all over again. Stinks.
Laurent has already removed a (pretty vicious)Trojan the other day, but he says we might have to buy a new network card for the laptop.. :-/
Anyway. Hopefully I can post this before it goes off again..
We've been away on an extended week-end and went around Grenoble where all our firends and family live. Lots of awesome mountains there too, so we rode our bikes, saw friends, Prune did some swimming with her cousin and lots of walking with her granny. All good. But of course I didn't touch my knitting, although I DID bring it along.
Anyway, I still have some knitting news: The
Isabeau purse
(matching the shrug), which I had kept secret because I had submitted it to a mag. However, deadline is long over now, so I'm guessing no news is no.
It's a quick little project, a purse just big enough for a wallet and cell-phone. I hadn't lined the first (beige) one as I finished it just in time to hop in the car and go to Rachel's Bday ;-) but I did line the second (mint) one. It looks neater, and looks nicer when empty BUT it doesn't stretch as much anymore...
The free pattern should be accessible hopefully later today. I just need Laurent to help me with hosting it somewhere, ... until I start at last on the real thing , my "chez Plum". I'd like to start with a minimum service site, until we work on it during Laurent's 3 weeks holiday in september. (He didn't want to touch a single computer during his holiday but he said he's make me a special favor... He's a nice guy..!!)
The shrug is also ready except for the XL size which is still in the testing phase. If anyone was interested in having it in advance but only in the smaller sizes (S & M-L )just let me know (with maybe a little discount on the final $4.50). My email is in the sidebar.
And finally, here's the uncropped photo of Rachel with both Bday presents... ;-)
Okay, let's upload this already and see if it still works..

Edit:
Lookee what I just found. And Yeah, it IS odly accurate. (except maybe for the secret-ive part..?)

You are nurturing, kind, and lucky.
Like mother nature, you want to help everyone.
You are good at keeping secrets and tend to be secretive.

A seeker of harmony, you are a natural peacemaker.
You are good natured and people enjoy your company.
You put people at ease and make them feel at home with you.
Thursday, August 11
Ready for Round 2
Round 1 is over, I finished the first prototype.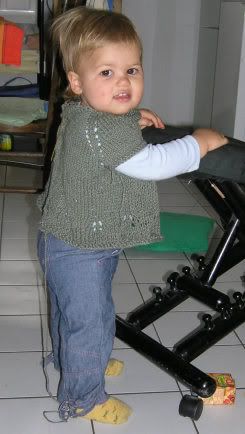 Looks promising, but lots of things to fix. I'm frogging it and trying again. One good point is that my 3-and-a-bit skeins are going to be plenty, so I don't have to worry about that. :-)
And I've been tagged by Christine. Like I said before I don't listen to a lot of music these days, so it shall pretty quick ;-)
5 CDs in your Player:
well, no actual CD player but just the laptop directly hooked onto the amplifier. Most CDs are stored directly in MP3 format. However I just happened to play one a couple days ago: some kind of a "top of the pops" we got in Russia. Pure russian junk pop, but I love it. Reminds me lots of
good memories. Other Cds left near the computer are "Zemfira" ( russian band), "chants de l'extase" from Hildegarde von Binger, and Steve Earle and the del McCoury band. (more memories, peeling cedar logs in B.C.)
5 Movies You've watched Recently:
Another hard question. Not many movies lately. "Cookies fortune" & "Ressources humaines" I know. Oh, that was a while ago, but there was "Bride an prejudice" too; I love Bollywood.. And can I say books for the 2 last ones..? I'm finishing a book by Lucie Aubrac, about her time in the french "resistance", and just before I read that book about Auschwitz. Very interesting.
5 Nice Things That Happened To You Lately:
uh, lately..?
1)this lady agreed to sponsor me for a couple skeins of yarn for one of my projects. Although I'm still waiting for her confirmation, that was a big high..!
2)..It's not "directly" concerning me, but Prune's first steps is a
really
nice thing.
3) Having lots of dear friends (and relatives too) visiting these past 2 weeks
4) Some kind of a maybe-project with Christine
5)The handmade present for Prune a kiwi friend sent that I received this morning
5 MP3s on your playlist:
The ones I listen too most often..? Bjork, Shakira (NZ memories), Anne Sylvestre (kiddy songs), Olivia Ruiz, soundtrack of "Monsoon wedding"
Okay, going back to the "Mouchelette"...
Wednesday, August 10
Mouchelette
So I've started on a new project : a little raglan top for Prune. I'm using the Mission falls cotton Yahaira sent me and it's fun so far.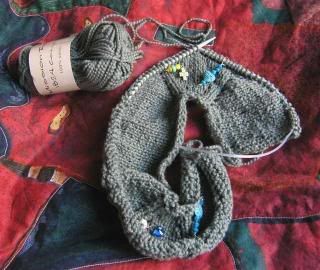 If the final result looks like I want it to, I'll probably call the thing "mouchelette", after one of my favorite songs as a kid ("mouche-mouchelette, moucheronette-moucheron, demain c'est ta fête, toutes les mouches danseront..")
Okay, Prune calling. Looks like she's finished her nap. I'll be right back...
..Hi again. She's making good progress on her walking btw (and "talking on the phone" too). I had never been too much into babies before, but I'm amazed at how quickly her neurons must be connecting these days..!!!!
The chokers haven't progressed yet as I'm waiting for news about the yarn I want to use for them. It will be a quick knit anyway. ..and btw I showed it (among several little other designs) to a friend the other night, and she said she LOVED the choker.. :-D
Anyway, as soon as I have finished with the little lichen top (including time for the routine 1 or 2 frog/reknits) I might start on a little lacy cardi for me, more or less in the same spirit as the shrug.
I'm also trying to make some airy curtains to have a bit more privacy in the kitchen/living-room. The old ones were very long, so Prune pulled them down... :-/ Those I plan on making way shorter so they're out of reach for her. I've already started on one, in orange "cotonina" (I told you I like orange !) with 10mm needles, but I'm not sure it will look fine. We'll see...
And finally, to all those who like the Glampyre mini-sweater (I've been meaning to make one forever),
have a look at the one Karen
made !
Thursday, August 4
First steps !!!!
Yesterday Prune made her first steps ! Woohoo !! We both were so loudly happy and proud (yeah, she even did it while her daddy was home) she got scared and nearly cried...
Anyhow, she kept on walking today, little cautious steps, but still she walked, so I'm like WOW, entering a whole new world now !!!
I haven' made any good pics of her walking yet, so instead I'll show her with her other (& just as new) passion : answering the "phone" (in this case it's her dad's electric shaver ..!) and trying to say "allo, oui..."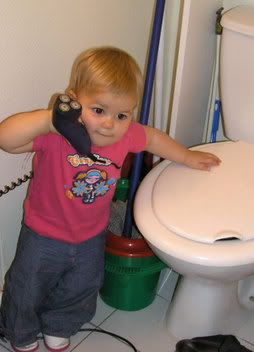 In knitting news, some super duper exciting news might be in the works. Let's cross fingers.
And in the "real world", lots of friends and family visiting these days, sooo cool!
Oh, ... and did you see Laurent just helped me with the fancy font issue for the title? Now we have a
Wendy medium
title, ladies...
Edit: Can you tap-dance AND knit at the same time ...? I mean, I can be quite passionnate about knitting and crochet, but not
that much
.. ;-) Fun read though.
Tuesday, August 2
See ? Orange IS cool ...
I got this in the mail today: the awesome needlecase
Melissa
sent me, along with an assorted v. cool stitch marker.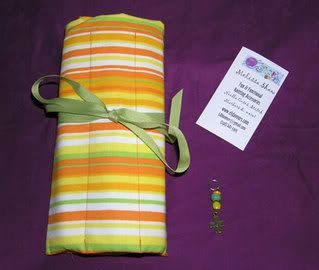 And speaking of stitch markers, I just started using one of these little guys yesterday, and I think I'm addicted ! Not that I NEED it - I've just cast on for a nb 2 shrug, mostly because I needed a close-up pic of the lace ;-) - but it just makes knitting even more enjoyable : less thinking, more "touching". Plus I LOVE to have it dangling on the needles..
In other news, I've got another pattern ready, but it has to remain secret for now. So I did get some knitting done, but can't show any pics.. Boo.
The shrug pattern testing process should be in its final phase soon.
And I really should finish the "Felicie" choker, which needs yet another frog-reknit. Will probably be like the tenth time, between finding the right dimensions with the yarn I finally decided on, then right finishing etc... Then the other choker variation ("Felicie aussi") shouldn't take long, and I'll have another pattern to add to the list...
I really should start working on the template for the pattern page now !
.. and also before I forget. I found this awesome book at the library the other day. Title would probably translate as "Stories of a portable utopia. The case of the handbag" or something like that.. And there's all these fabulous ancient purses from all civilisations inside... Oo-Hoo!!! Inspiration.