Tuesday, August 30
Mouchelette
I finished the Mouchelette yesterday night. And Prune's wearing it today of course !!! ... I know, at first sight it looks exaclty the same at the first "prototype" but Nah.. scroll down to the aug. 11th post. See the difference ? The sleeves were too narrow, the top of the chest area was way too wide, etc...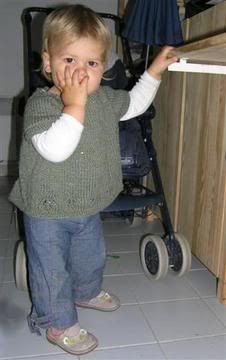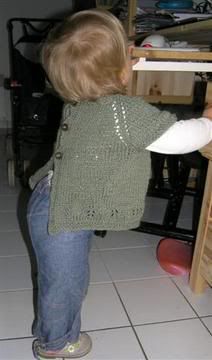 I'll try to take better pics later, especially of the little motifs along the bottom, but she doesn't make it easy. Also I need to add the 2 last buttons. I thought I'd like it this way, but it jut stays wide open in the back, and that ain't too good.
The top is actually more fitted at the top, and then there are increases to make it flare a bit. (come on, if you really look hard you can kind-of-see-it in the lat pic..) I really like short sleeve tops for her, I find it more versatile. Otherwise with regular long-sleeve cardis she often gets too hot inside, or gets her hands all tangled-up in the sleeves ect... But I may knit her also a long-sleeve version.
And of course, this top can also be used as a regular cardi. Kind of a "two in one"... ;-)
I'll be writing up a pattern for it soon, and size it up and down, but I think I'm going to try and make the
Isabeau handbag and tote
first. And I'll be off to get more yarn for those in a minute as soon as prune wakes up from her nap ! Still not sure of the colors I'll choose though...
Comments:
love it! I cant believe that a yarn I bought ended up in France and on a such a cute baby and top. woohoo!
really looks great
Post a Comment
<< Home