Sunday, September 25
Back home
So after 12 hours in the car yesterday, crossing pretty much all of France (from the ocean to like 60 km from the swiss border - that's where we live !) we're Home again !
I had like 60 mails in my inbox yesterday..!!! AND a great package waiting for me from Winnie, who sent me all those in exchange for a pattern I translated for her.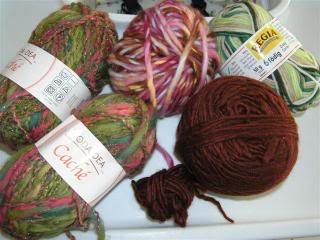 I'm so happy ! Burgundy Manos del Uruguay, a skein of Regia sockyarn, some Lionbrand Landscape in the lovely color used for the
crosshatch hat set
, plus some Moda dea Cache in a cool pink/green combo. To me all of these are little treasures: just picture yourself living in a country where nobody has ever heard of all these (exept maybe in some high end stores like in Paris ?) but keep on hearing about them everywhere on the web.. Well now I DO have some Manos of my own, and will probably use the Regia to knit prune some sockies...
Anyhow, other than that we've had two grand weeks, had a very nice appartement with a view directly on the ocean (located like 50 m away)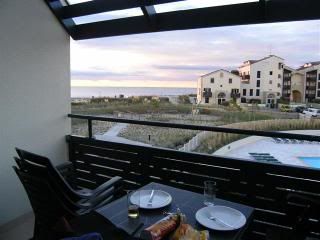 Plus we had some fairly nice weather (especially for the season). We swam a lot, in the ocean and in the (ice cold) swimming pool. Rode our bikes only once though, in the nice smelly pine forest of the Landes. Prune had the best time, always out, she LOVED the ocean and the waves.. And of course Laurent surfed his ass off..!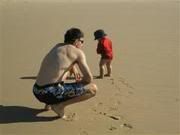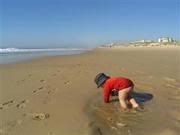 Now, knitting content. The totes... Yeah, you guessed it. Still not finished! Actually they could have been, technically. But to make the long story short, I started with the handbag, in orange. Was like 97% finished, blocked and sewed the lining and then started assembling it.. and realised it was too big.
Okay, so I just rewrote all my numbers, and started again, on the tote this time, in navy blue. I kept the orange one, you know, so I'd make the tote "right". Knit it all up, front, bottom, back. Was a long one, because well, it's a tote. Then it was already like the last days, took the (blocked)orange sampler out, and looked again at my now 70% finished tote.. And decided it was too big as well ! (...especially because of the "weight" factor: I'd like it to make it the perfect size so as to keep the weight to a minimum so it doesn't put to much pressure on the handles.. See what I mean ..?)
Anyway, so I started again. This time in turquoise. And back to the handbag version. Now like 65% done but as it's much smaller that the big navy tote, it should be quicky finished once I get back onto it.
I'll put up a pic as soon as I have a good enough result.. ;-)
Oh, and just a word about
chezplum
. It seems we have a problem with the download system laurent installed just before we left, despite all the (successful) tests we made. Sorry again to the people who had to wait for me to email them the pattern. We'll try to have that fixed asap, but in between I'll just go back with the old system and send the pattern via email as soon as I get Paypal payment notification.
And now I'll go back to unpacking...! Talk to you soon.
Edit: Oh, and I keep on forgetting. Today was my birthday... 32 now ! :-D
Friday, September 16
Just to say Hi !
Friday, September 9
I'm off
or at least in a few hours... Will get some sleep first ! ;-)
Well I wanted to post a little preview pic of the tote and handbag, but really didn't get the occasion/time today, just ran around all day packing, cleaning, organising, running after prune... you get the idea.
Laurent installed a system on
chez Plum
so that patterns can be downloaded immediately after payment is processed. So now I can leave and not worry overly about not being connected for 2 weeks. Arghh !
I sent in my application form today for the Fancy scarf show (see former post), and apparently she needs more knitters, so go ahead and apply too ! (seems like she's keeping 40% of retail price, and remaining 60% is for you. Seems fair, no?)
Also, on
Maize
's blog I just found
this
. Love the colour scheme, and this is just quite similar to the knitting tote I want to make. Although mine will be different of course, but I mean I really like that kind of format...
Ok, ... see you guys in 2 weeks. I may be able to check my emails from time to time if I can find a web cafe, but really not sure. Will miss you...!
Thursday, September 8
Might be fun
Just found this on Naive knitting (which I'm adding to my links btw, the list is starting to be real long) :
"
The Fancy Scarf Show - FANCY would like to invite you to participate in our 1st Scarf Show.
Fancy will showcase various scarf creations from artists around the world. Our opening reception will be held on November 11th at Fancy in Seattle, WA. For one month we will have your creations on display and will sell them either at the store or on our online website.
To join in the festivities contact curator, Kristen Rask, at kristen.rask@gmail.com with your name, website info (if any), and a few images of the kinds of work you do. Kristen will then contact you more about the show if you are selected. Please allow for a few weeks for her to do so.
This is a great way for you to get your name and work out to the public! And in perfect time for everyone to find their new perfect scarf!
We Love You and Scarves!! Fancy - 1932 2nd ave - Seattle, WA 98101 - Fancyjewels.com
"
Oh, and of course you've already seen the new
Knitty
, right ? Once again, gorgeous stuff !
Wednesday, September 7
Isabeau vs Katrina
I blocked the Isabeau handbag today, and will try to get the lining cut tonight (I'm thinking of using leather... That should be stiff enough ..!! ;-) )
I've also started on the tote, but with preparing for our holidays / cleaning the apartment (nothing worst than coming home to a messy place) and taking care of Prune (she's teething again, and looks like it hurts!) ... I don't think I can have both done by friday. So that might have to wait till we come back at the end of the month.
But anyhow, all this seems a bit futile. I'm really not much of a "news" person (+ being away these last days ect..), so I'm like only starting to get a grasp of the whole Katrina thing. But once again I'm blown away by this great crafting community. The
Crafsters United
thing, or
Give a little
, and also this lady who's donating the money she'll get for her beautiful
Katrina rib pattern
.. there's probably more, but I already find those so inspiring and positive !!
All this to say I'm so happy to be somehow part of such a fantastic community. I still don't really get how so many americans could willingly give full powers to bush (which btw sounds in french like "bouche", i.e. in regular vernacular slang "some big-mouthed person from whom you should not expect much truth"...!?!). And I
really
wonder whether those people still blindly trust him now.
Also, be sure to check what mon amie
Christine
has to say about all that. She's so much more than just an awesome designer.
Saturday, September 3
Just a quickie
'cause it's already late, to say I've nearly finished the knitting part of the Isabeau handbag. It will still need finishing, and some stiff lining...and hopefully I can show you a pic when we come back from Grenoble in a couple days !

Laurent is in vacation for 3 weeks, so we'll be sticking around this next week visiting friends and family and doing various errands, and then we'll head off to Lacanau (around Bordeaux on the Atlantic coast) for 2 weeks. Hopefully for some surfing, cycling, walking in the sand-dunes.. and knitting !!

Okay, so talk to you in a couple days. I really hope I can get those 2 bags done before I leave ! ..Oh and if I could get the final green light for the shrug's XL size that would be nice too. We'll see.