Monday, July 24
Learn a new (french) word : Canicule !
"La canicule" is a super hot summer. Like the one they had in 2003 (we weren't in France then) or this one we're having now ! Everyday I fight against the heat to keep it away as long as possible. Closed blinds all day and going out only in the morning... I so need a fan !
But well, we're surviving. Not much kitting though. We were away all week-end again (our parents live in cooler places, thank god) and now with the 2 girls I just didn't take the extra time to choose and pack my knitting/crocheting..!
Got to meet this cool lady there who's selling all sorts of things (jewelerry, antique dresses and sheets, beaded bags etc..) on Ebay since 2003, and now has a little side-shop too. Might not be so extraordinary for you guys, but for me it was the first time I met sbdy with whom I could "speak the same language", if you see what I mean.. so cool !
Oh. And after finally succesfully
destashing
a bit (40 skeins !!), ... what do you think I did..? Well, re-stashed of course !! ;-)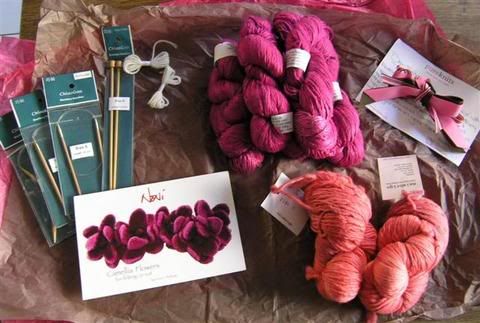 I received my order from
Pureknits
last week, Ta da ! (people who know me will know it's quite extraordinary for me to buy
brand new
yarn from a
real
shop!!) So I got me bamboo needles (the circs are real hard to find here, and certainly more expensive !!), 5 skeins of Hip Knits silk in "barbie", 2 skeins of Malabrigo in "calypso" (still not sure what I'll do with it but that colourway is
soooo pretty
!!), ... and of course the pattern for the famous Noni Camelia's !!
As usual, it was all so
pretty packed
, and she even included little samples of
Fable Handknit
Yarn, so soft !!
I've added several pictures in the
Gallery
lately, go check them out ! Also, I had to remove all the direct "mailto" links featuring my email adress, I'm just getting SO MUCH SPAM !! Instead, my uncle said to dispay it in a jpeg picture (see it in my sidebar), so that the robots and search engines can't read it... Hope it'll help !
okay, now I'll try and start on my next project, .. another belated baby pressie, for little Gaspard !
Monday, July 17
Ooops !! Isabeau tote pattern correction !
Thursday, July 13
Why I love my hooks !
Tuesday, July 11
A very mini
Thursday, July 6
Lacanau !!!