Thursday, July 13
Why I love my hooks !
The skirt was REALLY too short. The top was slightly too wide and kept on rolling. Prune wouldn't keep it on. All this for nothing..?
So I took my hooks, leftovers of Cotonina in an close-enough light blue... added a sc few rows around the waist with eyelets for an i-cord belt (but turns out she doesn't even need it) and one row of sc around the bottom of the skirt. Now it's the perfect size, stays around her waist and flares exactly how it should. (You can kinda see the mods on the first pic. )
Yipee for crochet !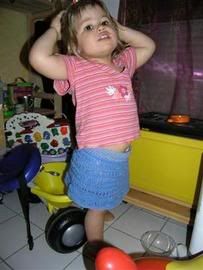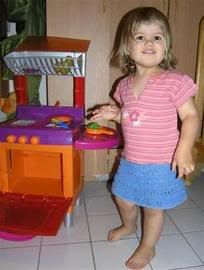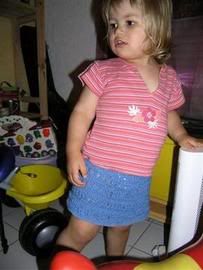 It's really cute now... and she even seems to like it !
I just received this cute package in the mail from Marsha : 2 sk and a bit of Debbie Bliss Cashmerino swapped for some of
my stitchmarkers
...
I love swaps !! :-D Thanks again Marsha !!
Also ...
some
Lacanau
sandals
across the web already !!! :-D And Sunflowerfairy
finished her shrug
!
Comments:
Thank you so much for the pattern! It's very well written with clear and nice pic's. Luckily I have some Licorne left, so when its finished I will let you know!
Groeten uit Nederland
Post a Comment
<< Home