Friday, July 29
Orange is cool ..
But plum and lime is even better ! So I've finally just rearranged the colors of this blog "à ma sauce". Now that looks a bit more like me. However, I still need to fix some stuff with Laurent later today as I know not everybody will have the "Wendy medium" font, so I'll need to photoshop that bit for the title.
But I just couldn't wait, so I'm putting it online right away.

Still can't make up my mind though on whether or not to change the name of that blog (like into some kind of -"chez Plum" blogs- or something), or stick to "Pelotes ect.." I have to admit I'm starting to like "Pelotes" again with these new colors...

Thursday, July 28
Just a few words to say that I've been able to find new homes to quite a bit of my stash lately so I've just added more again. This time, more single skeins, but not only. It's
here
.
Oh, and also this morning I made my very first stitch markers. They'll probably get more even when I do more, but still, I like them !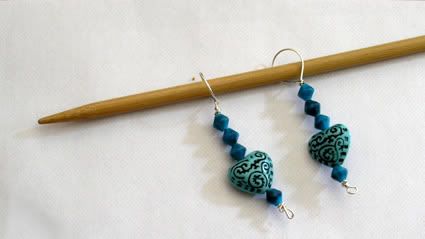 Wednesday, July 27
More new yarn...!
Woohoo, I got Yahaira's package this morning, so that's more yarn that I can use for future designs or projects ! (lovely lichen color Mission falls cotton+ camel GGH "Aspen")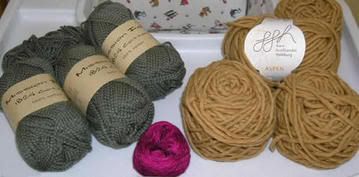 ... plus look at the AWESOME suprise she added: 600yds of the most beautiful bamboo, especially hand dyed by her for "chez Plum". Isn't this the sweetest thing ?
And here's a closeup so you can see why I'm in love :
Thanks again
Yahaira
!!
I also just got back from my little crafty shoppipng, got some beads and basic jewelery stuff (would like to try some stitch markers), fabric for my swap partner, ... and what do you think I got that I couldn't resist..? Knitting stuff ?
Nope.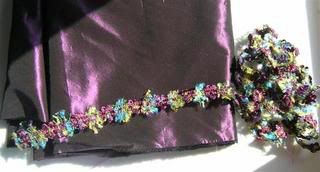 This "moiré" fabric (have no idea what you'd call that) that I'm dreaming of either turning into a skirt, or little totes.. Plum + Lime = Yum !!! (again)
Hum, only thing is... that means I'll have to get my sewing machine out? I just have no patience for sewing.
Garter stitch is beautiful
I found
this top
in a french mag yesterday and thought that was super pretty. Real easy design, and all in garter stitch, but on oversized needles. Somehow I'd be tempted to make one for myself, like in a real dark color (black / navy blue), but would I wear it (I tend to wear only a few things from my wardrobe), and would it still look nice without the ribbon (too girly for me)... plus do I have time to spare for this NOW ?
I also want to make a second shrug, for myself this time. But haven't decided on the color yet: Same muted pink as my IK rib shrug? Navy blue ?(could look nice in a darker color)... or beige just like my friend ? I'd hate to have exactly the same one as her though. I might end up choosing the dark blue. ...Have to go and get the yarn.
My other problem being I misplaced some of my larger size needles. I kind of made do with the ones I have and a coarse piece of dowel for the first shrug. And of course they'll show up as if by magic if I buy new ones.. (!) Well, at least I could sand that dowel this time ! ;-)
Ok, enough questionning for today ! This afternoon is my "day off": Prune goes to daycare. Will do some crafty shopping for a swap, .. and maybe I'll find some good stuff for myself too ! Plus hopefully I may be able to squeeze in some pattern typing or knitting time.
Monday, July 25
Rachel
So here is my friend Rachel modelling her new shrug...
I also knitted her something else, but Shh! it's a secret.
We had a cool week-end, went to a BBQ, chatted about NZ with a german gal(!), then met with some cousins on sunday. Prune had a great time playing with a toy kitchen(for a change, she was allowed to get all the pots and pans out !!)but she's still a bit young to play with the other kids. She loved swimming with her daddy though!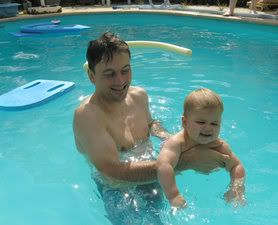 Saturday, July 23
New yarn
So the shrug pattern is coming along nicely (mostly thanks to my awesome proofreaders!). Can't wait to see wether the larger sizes "work" too.
Also, this already dates back to a few days (but I was too busy with the shrug to post anything), look what I found the other day when I went shopping for my swap partner. I had the (bad?) idea of walking in the Phildar store, and I ended up buying stuff for myself instead !!
I'm particularly in love with the "Licorne" cotton (plum & lemon). I'd love to turn it into that "besace" knitting bag I'm thinking of. But it's really thin, so I'm not sure it's the right yarn for the job despite those aaaawesome colors !
The other ("steppe") skein was on sale, and is the same quality/color my sister in law made herself a sweater with. It's really lovely, plus it's Oh-so-soft...!
So I'm starting buying yarn from actual yarnstores...? Oh Ho, I'd better stop quick before I get used to it...!!! ;-) (I'd usually get it all from thrift stores)
Tuesday, July 19
Just in case I ever feel like taking myself seriously...
I'll show my most ridiculous (hopefully ever though !) FO : My new
"Kenny" remote control
...!!!
I really needed to "baby-proof" the remote as one of Prune's favorite game is to throw it on the ground (then batteries out = not very cool for a baby). So I had grand plans for a really chic cozy with a nice pompom and all...
And look what happened ! Somehow I couldn't find the right yarn in my stash (ie beautiful, bright colored, and yet not THAT beautiful that I could sacrifice it for a remote cozy..), and then couldn't get it to look right, and didn't want to work on it forever..
Anyway, I might try again later, at least it should be functional. Plus now I won't loose it so often any more... ;-)
Maybe I should start a new thread in Crafster, "show your most ridiculous FO"...?!
Okay, so I've been kinda tagged by Christine,.. that'll be an occasion to reveal a bit more about me.
10 years ago:
Man, I was slowly recovering from the huuumongous surprise of Laurent (my partner) finally falling for me after running after him for over 2 years in vain. Hmm, at the time I was still like 20 pounds heavier, short hair, leftover acnea, and had the best time hanging out with my gang (all guys, laurent being one of them) doing crazy stuff like canyonning and 13 m jumps into ponds, snowboarding like hell, food battles ... ten years later we're still all very close.
5 years ago:
Another turning point. We were homeless, having left our awesome little place in a ski resort above Grenoble, got rid of most of our stuff and furniture, and were only waiting for a fucking russian visa to leave for our
Sidetour
trip on a russian sidecar (I really need to do some major updating on that english version btw). At the time we said we'd leave for a year but we knew it would be longer, eventually took us 3 years...
Enf of july, hoo... we were like in the starting blocks! (we finaly left on august 4th), ready for the big leap into the unknown, go to Russia to get our sidecar at the factory ... It was fun. Scary, but fun.
1 year ago:
well, we were back for about 9 months, new town, new job for laurent, and Prune was only a few weeks old. Really cozy feeling to have a baby nested in your arms.
Yesterday:
I had to reorganise everything in our little appartment after coming home from our mini-vacation, plus I finished typing the instructions for the shrug and sent my first pattern to be proofread/tested. So I was kind of high, bit all my nails that had miraculously been long for several weeks, and of course had insomnia.
Today:
I really need to getup from the computer and have a shower before it's the end of Prune's nap. Then need to do some groceries, prepare some lunch somehow, and get some knitting / pattern typing done. Oh, and I need to whip up 2 birthday presents for 5 year old twins before saturday. Must think hard.
Tomorrow:
Hum, pretty much the same as today. Nothing exciting.
5 snacks I enjoy:
those little cheap chippies (they're probably full of really bad for you stuff, but we just can't stop eating them), anchovy-stuffed olives (I'd die for them), ... what else, anything real salty like "saucisson" (kind of like salami, but way better) or "st Agur" blue cheese, and raw carrots/celery/brocoli dipped in good sauce...
5 bands/singers that I know the lyrics of MOST of their songs:
Well I hardly listen to music at all these days except for online radios sometimes, so I'll say bruce Springsteen, french stuff like jacques Brel, laurent Voulzy, Olivia Ruiz, ... and say Ali Farka Touré. But I'm really more of a browser when it comes to music.
Things I would do with $100,000,000:
First buy a van, like a Mercedes and drive around Europe with all the gear on the roof. Then Laurent would probably jump on the occasion to stop working like a dog and do his own stuff.
Huh, and well that sounds like a sum, so I'd say buy a place and put the rest in the bank till I know better.
5 locations I'd like to run away to:
Probably places I'd return to/see more... Only 5? Okay so I'd say Reunion island, western australia, Alaska, Irkutsk/the Altay in Siberia, and the west coast of the US. Oh, plus I'd really like to see a bit of northern Europe, like Denmark/Finland... I know, that makes 6.
5 bad habits I have:
well I tend to be a real lazybum, I watch too much tv (although it's really not that bad any more), and just don't push myself to do things in general. And I usually bite my nails because I can't stand to have them long.
5 things I like doing:
being creative (so that includes knitting and designing stuff), spending some good time with our friends and people I love, looking for awesome stuff in thrift stores, camping and being outside (which is one of the reasons why I love the place we just went to, we're like outside 99% of the time), and well...going for hikes or read a good book ?
5 things I would never wear:
a thong, a mini-skirt, sex-and-the-city type shoes, ...oh and a trench-coat !(the mere thought of it makes me laugh !). What else...? I know: any top without a bra underneath. Just because that'd be gore.
5 TV shows I like:
Right, so we don't have the same TV show obviously, but I really loved the canadian "changing room" type of shows (not sure of the name any more, that's where they revamp a room with a team of carpenter/decorator..). I love watching the "Arte" channel, it's a french-german channel and they have sometimes awesome programs (like there was this whole evening about the Dalai-lama the other night), and sometimes stuff you'd never see anywhere else (like ballet or post-modern dance shows that I really don't understand..)
And then I'm pretty conventional, I used to absolutely adore the first seasons of Ally Mc Beal, .. but quite often I watch pretty random stuff while knitting or doing something else.
5 movies I like:
In my very top favorites that I'd bring along on a desert island would be "Chamane" by Bartabas, "Smoke signals", "Magnolia" , ... maybe throw in a little "Whale rider" for diversity and mark Strong's "Pride and prejudice" for the feel-good factor
5 biggest joys at the moment:
being ever so lucky to have found my soul mate and having him at my side for the last 12 years;seing Prune nearly ready to go for her first steps and so proud of her progress!;having such a good life when others have terrible families/environment/unsolvable problems; having a home sweet home to come back to after a 5 days mini-vacation; and last but not least, this whole crafster/knitting/blogging/designing/meeting great people stuff. I've been saying it for years, but I love the internet.
5 favorite toys:
my bamboo needles and huge stash; my push-bike; that computer ! ; my telemark skis (although haven't used them lots lately) ; and well let's say my car because that's how I get to pay visits to friends and family in Grenoble...
Monday, July 18
Shrug !
...Well I really suck, I did it again !! This time comments were allowed, but only to members of my blog (ie, me!). Thanks Yahaira, once again...
Right. We came back yesterday night, after 5 days training for our next life as lizards, relaxing in the warm shade of the trees, listening to the "crrr-crrr" of the cigales (would you translate that as crickets? It just doesn't sound "provençal" enough). We didn't even make it to the beach (Prune decided to catch a cold that day), so I don't even have nice pics to show... instead I'll show you miss Prune ;-)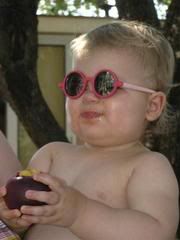 And among all the action (we didn't even use our bikes!) I managed to finish the shrug (see ? I'm knitting !)
And now may I present the not-yet-decided-on-its-final-name shrug :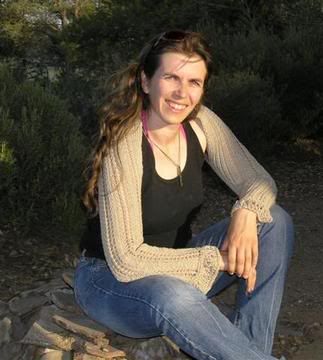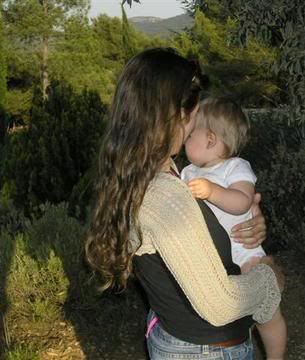 It's funny how you don't see the picots along the back on that pic though... Maybe I'll have to take more pics. I'm also going to ask my friend Rachel (this is going to be her 2-months due birthday present) to model it for me. Plus she's iranian and a really beautiful girl..!
So now I have to finish typing the instructions, have it proofread, and tested (I'm trying to add larger sizes), and hope for the best.
Tuesday, July 12
smells like holiday...
Well there's one good news, and one bad news. Good news is I'm leaving in a couple hours for 5 days on the Riviera (actually inland, but still real close to St Tropez...Isn't that flash ?!!) So that'll be 5 days of siesta, swimming pool, beach, bike rides, bbq and petanque... Cool!
But bad news is I'm so close to having finished the shrug and sending the pattern to my dear proofreaders ( Hi ! ;-) ) that it's damn frustrating !!

Oh well, I guess I'll have to survive...

Monday, July 11
So the results for the Stitch Diva contest should be published sometime today, but I already know my choker came 6th. HOWEVER the great news was that jenifer Hansen offered to publish my design in a pamphlet she's preparing. Of course I had to say no as I can't afford to lose any of the few designs I've got right now (I bought my domain name yesterday for "chez Plum"!), but I was awed : Imagine, my first ever offer of money for some of my knitting !!!!!
In knitting news, I'll soon be done with the shrug, Whoohoo! And I so loooove the result so far !
I planned to give it to my friend Rachel as I owe her a birthday present (bad me!!), but seeing the result, I guess I'll be knitting number two very soon for myself !
I'm also doing yet another swap: Melissa is going to send me one of her lovely
needle-cases
, and I'm sending her some of the bulkiest yarn in my stash (hope she likes it).
The needle-case should more or less match my bedside lamp (true vintage, I snatched it from my parents !), that will be fun.. Plus it should be a nice way to keep all my knitting needles out of the way from Prune !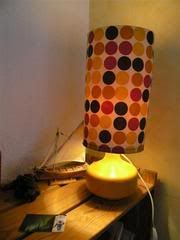 Friday, July 8
Hey, I'm back! Spent a couple days with my grandma who is slowly recovering from an operation (well, she's ONLY 86 !) We had crappy weather, so no bike rides, and to think this is july !!

So the voting time for the Stitch Diva thing closes tonight. So far my choker got only 7.2% of the votes, which means 5th place. Not too bad, but no prize. Maybe some other time...

...Of course I didn't get as much knitting done as I hoped. But I still nearly finished another choker. (lots of frogging/reknitting though..) I really have to get moving, I should set myself deadlines.. ;-)
Well see you a bit later guys, I really need a shower badly!!!!!

Monday, July 4
Hi, hope you all had a good week-end ? I'll be away pretty much all week (no computer and no internet, arghh !!), so hopefully when I come back I'll have some stuff done! Like I really want to do this lacy shrug in my size, and also another choker project that I have in mind and already swatched. Then that will make three patterns (incl. a crochet one I've never shown yet), kind of enough for a start I guess.
With your feedback, I've finally decided on "chez Plum", and we've started working on a design (did I mention my partner is a web-designer?)! It's getting really exciting, .. no wonder I have insomnia ! I can't wait to have it all settled up!
Oh, and btw (this blog is looking more and more like a classified board!), would somebody be interested in being some kind of a "language consultant" for me ? Like somebody who'd proofread my patterns/website (obviously a native english speaker, and preferably knitter and crocheter). In return, that person would have all my patterns for free of course, plus I'd occasionaly send a few goodies (yarn?). Or whatever arrangement we can find.
Okay, and now on to a couple pics: first a preview of my choker, new version (will be named "Felicie", and shall be paired with another choker design : "Felicie aussi". Sorry, french pun..)It's really cozy on your neck, I'm sure I'll wear it a lot this winter rather than the usual scarves.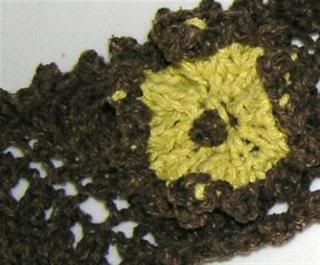 And a little Buttafly. This is most probably not the final version, but I just thought I'd show it. I'm pretty happy with the construction I came up with (during one of my insomnias !).
In other news, I've just signed up for a Crafster swap, called the
"my country doesn't have that swap"
(!). It will only be a small swap (2 or 3 items), but they kind of needed non-US/canada residents, plus it could be a good way to try the Rowan "all seasons cotton" which seems a perfect substitute for my local Cotonina. (Debbie Bliss "Cashmerino aran" also seems pretty close but with a different material content).
Happy Fourth of July to all Americans! ..And this time I'll try not to check the "no comments allowed" box..! ;-)