Monday, July 25
Rachel
So here is my friend Rachel modelling her new shrug...
I also knitted her something else, but Shh! it's a secret.
We had a cool week-end, went to a BBQ, chatted about NZ with a german gal(!), then met with some cousins on sunday. Prune had a great time playing with a toy kitchen(for a change, she was allowed to get all the pots and pans out !!)but she's still a bit young to play with the other kids. She loved swimming with her daddy though!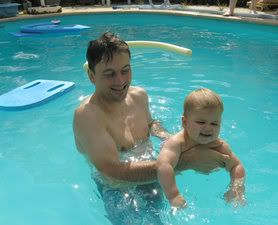 Comments:
Awesome shrug! I don't know how you find the time to do all that knitting with a baby around. You commented on my blog about my Cashmerino. If it doesn't sell I will indeed let you know and we can swap. By the way - I am so envious of you living in France. But you are French, correct? I took a six month leave and lived in Paris for the winter/spring 2000. I had visited about 8 or 9 times since I turned 17 there and every time I left I would cry so I decided to stay for a while. It was so wonderful. If only I could have figured out a way to live there permanently. So I live in France vicariously.
Post a Comment
<< Home