Tuesday, October 25
"And what the heck is that ?!!" you're gonna say ..
Well,
this
is the beginning of my "fancy scarf". And I know it doesn't exactly
look
like a scarf, but hey, we'll say it's a "fashion not function" scarf !!!
Actually, I meant to knit it instead of crochet, but seing my motivation for knitting lately, AND seing how late I was for this project, I actually opted for crochet : so much easier, PLUS so much more portable !!! I can just get back on it every time I got 2 minutes, and don't have to struggle with the 2 circs... Also, it's actually not bad with crochet, because it makes it much denser, which helps holding the shape better. I'm thinking of adding some kind of pompoms at the end (upholstery-style). We'll see when we get there... ;-)
I'm actually using a big "ball" of yarn that I had prepared for another project, years and years ago for a baby sweater that I didn't want to swatch for.. BIG mistake !
Just so you see the difference when the same kind of yarn arrangments are knit, here's a little hat I had made, and a bigger swatch (front or back of said sweater).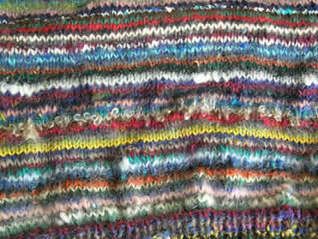 And for the most observant of you... no, you're not dreaming : Prune's shoes are indeed on the wrong feet! But that's just the doctor's instructions to help her straighten her feet when she walks. It really hurts my eyes a bit, but it's only for a couple hours a day so I'm trying not to look... And the piece of bread she grabbed from the table while I was busy taking pictures and all... These days she's always eating. Or at least trying to !!
And that's about it for today ladies. Really not much knitting action these days here... No, actually wait a minute : look at the fab package I received from my bestest friend
Yahaira
the other day for my birthday.
With 3 skeins of Colonia 140 from Malabrigo in this unbelievable color called "verde aqua" (a tad greener in reality than shows here). And the fall IK. Ain't I a spoiled bitch ?!!
Tuesday, October 18
..Oh my ! not blogging much anymore, Oops ! Actually prune's been sick, diarhea and throwing up involved. Plus some potential big news here (should have it confirmed very soon)... I'm not even reading other people's blogs any more (or hardly !)
Don't knit much either, though I'm trying hard to keep up working on the tote:I've now started one of the sides. The thing is I could finish it like in an afternoon, ..if there wasn't all the rest. And yet I REALLY want to be done with it, write up the pattern.. and jump to my next (soon to be urgent)project, the
Fancy scarf
(She's still looking for more participants !!) !
.. And have yet to start working on the homework too..!!
Monday, October 10
.. not much to add, first class last week was very exciting.. but I've got a feeling I'll need to do a LOT of personal reading to catch up on the others. But that's cool.

For now, I'm trying to knit as much as possible on the tote. In between this week-end and this afternoon (while prune was in daycare !) I got about... 60 % done ? Of course, there was some frogging-reknitting involved to get to the right size. How come you can only really see it's too high AFTER you've added the garter stitch rows and started on the seed stitch..?

But now that I saw how I like the turquoise one, I'm pretty excited to see the result, so I'm hoping to have it finished soon.

Thursday, October 6
of swaps and classes
Yeah !!! I was starting to think it would never arrive, but I got my package from the Crafster
"my country doesn't have this"
swap yesterday morning !! And look what elizabeth sent me !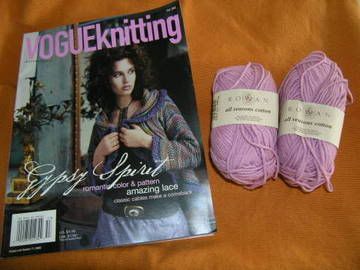 The 2 skeins of the Rowan "all seasons cotton" I had asked for (this way I'll be able to check if it's actually a good substitute for my "cotonina" that I keep on using for all the Isabeau projects), PLUS the fall issue of vogue knitting!!! Hoohoo, now I have an issue of both IK
and
VK !! (and I've read all about "knitting in Japan" already Yahaira !! ;-) Are you going soon ? )
She also sent
tons of other goodies
, including cajun spice and jerky, Yum !!!
I haven't been knitting at all these days, but I went to Uni and got to choose my classes: so I'll be specialising in Linguistics ladies ! Plus I'll have beginners classes of russian, sooo excited about that !! (So far I can speak and understand basic russian, but can hardly read it or write ! Also I'll get to learn a bit of grammar, can't wait !)
But the thing is, ... classes actually started over 2 weeks ago ! So we had a big stress peak on tuesday night trying to find ways for me to go this week (=basically having prune taken care of). I guess I'll just try to attend as many classes as possible this month, untill I have prune properly settled at daycare on wesnesdays and thursdays. (plus if I can't get the diploma this year, it's no biggie either.)
First classes this afternoon !
Monday, October 3
We have a bag !
... Yeah I know, it's been been over a week now. But I made the conscious decision that I wouldn't post until I had finished the Isabeau handbag at last, you know, the carrot thing...
So anyhow, I did finish it yesterday, and then Blogger was down most of the day (which gave me some extra time to make some pictures actually), ... so may I present, ladies : (for once, they're clickable)
For some reason it seems huge on those pics.. maybe it's the "knit" factor, I don't know. Or the color... ;-) But anyway, as always I was a bit anxious yesterday, wondering whether it would look as it should etc... there's always those moments of doubt. And it took me probably an hour to choose the exact right button that bag called for.. But all in all, and after pretending to use it for the mini photo shoot, I think I really like it ! It's surprisingly sturdy for a knit bag, I was really afraid of the handles being all floppy but they're not, & I like the size ...
So, despite the quite flashy color I think I'm going to keep this baby for myself .. !
During this little Blogger interlude I've also (re) started on the navy blue tote. Although somehow I'm not so sure it needs a tote anymore. But I'll just keep going, and see how it looks.
Otherwise, I really want to thank you all for your Bday wishes, that was very kind. And thanks Carrie ! Actually I try to keep my knitting budget to a minimum... which is the reason why I like swaps of all kinds.. ;-)
However, I did go to my fav. thrift store on saturday. Cheap, so no bad conscience... Here's what I found
The 3 balls of red/fushia yarn will be a second Mouchelette for Prune. And the half hidden green stuff is mohair bouclette, really nice. Plus those 2 odd balls & the light pink "Pingora" ( the softest thing and really feels like angora despite being all acrylic and whatnot), a pair of 20 mm needles (!)... Plus a pair of 3 euros Bocage shoes I couldn't resist.
I also did some crochet for Prune this week end. You see, her "Kiki" (don't know if you guys ever seen those furry monkeys, but every kid used to have one over here!) begged for a winter outfit, so he got a hat with double stranded acrylic, and a pair of bib overalls. I especially like the "pompom" on the hat, kind of tentacles crocheted on a 3 mm hook with only one strand. Plus it's more baby-proff than an actual pompom.
... And in other news, well I'm so happy for the good news given by 2 friends (
christine
already made hers official)!! The other one still has to remain secret for a while, but you'll all be hearing about it soon !(and that one is
not
baby-related.. ;-) )
And one pretty big news too, I'm going back to University ! I don't really realise yet. I guess I will soon, when I start classes and having homework. Yuck.
I got accepted to sign up for 2nd year of Master in english, (eventually want to teach english at Uni), so I hope I'll be able to that together with taking care of prune and all the rest. I guess I'll have to learn the meaning of the words "organise" and "plan".. and highly reduce my procrastination time !!! ;-)