Tuesday, October 25
"And what the heck is that ?!!" you're gonna say ..
Well,
this
is the beginning of my "fancy scarf". And I know it doesn't exactly
look
like a scarf, but hey, we'll say it's a "fashion not function" scarf !!!
Actually, I meant to knit it instead of crochet, but seing my motivation for knitting lately, AND seing how late I was for this project, I actually opted for crochet : so much easier, PLUS so much more portable !!! I can just get back on it every time I got 2 minutes, and don't have to struggle with the 2 circs... Also, it's actually not bad with crochet, because it makes it much denser, which helps holding the shape better. I'm thinking of adding some kind of pompoms at the end (upholstery-style). We'll see when we get there... ;-)
I'm actually using a big "ball" of yarn that I had prepared for another project, years and years ago for a baby sweater that I didn't want to swatch for.. BIG mistake !
Just so you see the difference when the same kind of yarn arrangments are knit, here's a little hat I had made, and a bigger swatch (front or back of said sweater).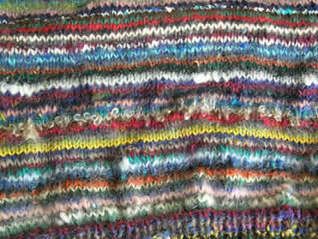 And for the most observant of you... no, you're not dreaming : Prune's shoes are indeed on the wrong feet! But that's just the doctor's instructions to help her straighten her feet when she walks. It really hurts my eyes a bit, but it's only for a couple hours a day so I'm trying not to look... And the piece of bread she grabbed from the table while I was busy taking pictures and all... These days she's always eating. Or at least trying to !!
And that's about it for today ladies. Really not much knitting action these days here... No, actually wait a minute : look at the fab package I received from my bestest friend
Yahaira
the other day for my birthday.
With 3 skeins of Colonia 140 from Malabrigo in this unbelievable color called "verde aqua" (a tad greener in reality than shows here). And the fall IK. Ain't I a spoiled bitch ?!!
Comments:
Whoa, I don't think I would ever attempt that scarf with two circs or DPN's I'd probably go insane. Must be much easier with crochet...I can't wait to see it finished - I think long tassels on the ends would be perfect. Happy Birthday - what a beautiful color yarn!
Post a Comment
<< Home