Thursday, July 28
Just a few words to say that I've been able to find new homes to quite a bit of my stash lately so I've just added more again. This time, more single skeins, but not only. It's
here
.
Oh, and also this morning I made my very first stitch markers. They'll probably get more even when I do more, but still, I like them !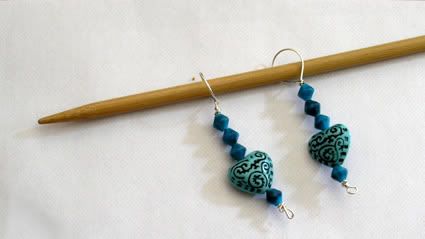 Comments:
Those are SO CUTE! I llllove hearts! Do you have jewelery tools or did you just twist the wire with regular house tools? They look pretty even in the picture. By the way, it looks like the Cashmerino is going to be sold but the Portofino Paper (which isn't all paper, of course) and the Optik might not sell. Would you be interested in swapping for any of that? You have some fun stuff on your swap pages.
Hey, thanks shelley. And I'm so glad you're still talking to me after all this Paris thing.. ;-)))
Actually I just bought this cheap little jewelery tool (can't remember the word, if I ever knew it) that works like a Leatherman.
I knew the Cashmerino would sell, it's pretty. I'm glad for you. I'm not sure about your other stuff though, not really my style. Another time ?
Absolutely. I had never even considered a "swap" before. I will always keep that in mind before resorting to eBay which is a HUGE hassle anway.
Post a Comment
<< Home