Tuesday, August 2
See ? Orange IS cool ...
I got this in the mail today: the awesome needlecase
Melissa
sent me, along with an assorted v. cool stitch marker.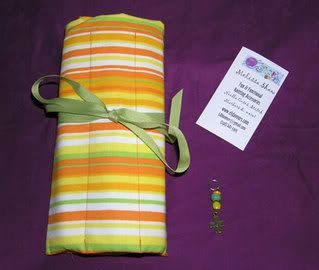 And speaking of stitch markers, I just started using one of these little guys yesterday, and I think I'm addicted ! Not that I NEED it - I've just cast on for a nb 2 shrug, mostly because I needed a close-up pic of the lace ;-) - but it just makes knitting even more enjoyable : less thinking, more "touching". Plus I LOVE to have it dangling on the needles..
In other news, I've got another pattern ready, but it has to remain secret for now. So I did get some knitting done, but can't show any pics.. Boo.
The shrug pattern testing process should be in its final phase soon.
And I really should finish the "Felicie" choker, which needs yet another frog-reknit. Will probably be like the tenth time, between finding the right dimensions with the yarn I finally decided on, then right finishing etc... Then the other choker variation ("Felicie aussi") shouldn't take long, and I'll have another pattern to add to the list...
I really should start working on the template for the pattern page now !
.. and also before I forget. I found this awesome book at the library the other day. Title would probably translate as "Stories of a portable utopia. The case of the handbag" or something like that.. And there's all these fabulous ancient purses from all civilisations inside... Oo-Hoo!!! Inspiration.
Comments:
That's an awesome neeedlecase, I love the fabric.
I like to stitch markers too, but I dont really know how to use them. They get stuck in my knitting for some reason, sigh.
A purse book?! How much better can it get?
Post a Comment
<< Home