Wednesday, August 10
Mouchelette
So I've started on a new project : a little raglan top for Prune. I'm using the Mission falls cotton Yahaira sent me and it's fun so far.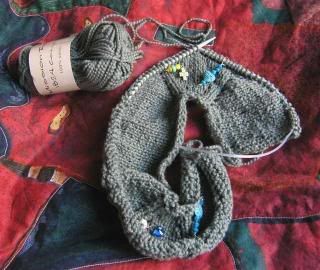 If the final result looks like I want it to, I'll probably call the thing "mouchelette", after one of my favorite songs as a kid ("mouche-mouchelette, moucheronette-moucheron, demain c'est ta fête, toutes les mouches danseront..")
Okay, Prune calling. Looks like she's finished her nap. I'll be right back...
..Hi again. She's making good progress on her walking btw (and "talking on the phone" too). I had never been too much into babies before, but I'm amazed at how quickly her neurons must be connecting these days..!!!!
The chokers haven't progressed yet as I'm waiting for news about the yarn I want to use for them. It will be a quick knit anyway. ..and btw I showed it (among several little other designs) to a friend the other night, and she said she LOVED the choker.. :-D
Anyway, as soon as I have finished with the little lichen top (including time for the routine 1 or 2 frog/reknits) I might start on a little lacy cardi for me, more or less in the same spirit as the shrug.
I'm also trying to make some airy curtains to have a bit more privacy in the kitchen/living-room. The old ones were very long, so Prune pulled them down... :-/ Those I plan on making way shorter so they're out of reach for her. I've already started on one, in orange "cotonina" (I told you I like orange !) with 10mm needles, but I'm not sure it will look fine. We'll see...
And finally, to all those who like the Glampyre mini-sweater (I've been meaning to make one forever),
have a look at the one Karen
made !
Comments:
thanks so much for dropping by my blog! if you won the yarn, would you be able to do something with 50 ydsand if so, what would it be? i am really wanting to have a knitting pal in france! my yarn would be internationally acclaimed! i love your baby...so adorable...
LOL I used to listen a lot this song when I was young !!!
"La danse magique où on doit danser de travers"
;-)
Wink from France !
Post a Comment
<< Home