Monday, August 29
Tote-size
Yesterday we went on a little hike in the Aravis, the part of the Alps that sits just beside Annecy. So we went to the "confins" near the ski resort of "La clusaz". Was super pretty, wide bowls (?) and sharp mountains, pine forest and dry grey rock. Plus the unexpected bonus of finding lots of strawberries on the way.. And lots of cows for Prune to see..!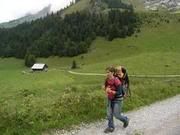 Don't be fooled by the pics though, Laurent carried her most of the time... And on all the steep slippery muddy parts of the hike too ! He thought it would be a quick easy walk, but we ended walking like 3 hours and then could only think of sleeping when we got back. Was it the altitude ? Or have we just become blobs ..?
I really haven't been knitting much lately, with having Prune all the time here (daycare is closed in august) and all. Third take on "Mouchelette" should be finished soon. Only a few rows left, then try it on Prune, and if it's right do the sleeves and finishing.
Prune's been wearing her mini-shrug a lot lately, I really like how it looks on her and can't resist showing it again...
I'm not sure what to do with this kind-of-variation-on-the-pattern though. A fully written bonus on the adult pattern? Just a few notes on the numbers used ? Would anybody even want it in the first place ?
I also have another project on the grill now. I had been thinking of
upsizing the Isabeau purse
, as most people (including me!) use larger size handbags... And now there's two people asking for it, so I'll take that as a good enough excuse. ;-) I've already decided on what I'll do pretty much, now I have to try and knit it and see how it works. Hopefully I can do that this week.
Oh, and Laurent started working on the future design & navigation for
chez Plum
this week end. I can't wait till we can put it up, even though it probably shall take another month or two. (for now, it's just one of the Wordpress free templates). Can I just say I LOVE it..?
Comments:
prune looks adorable in her mini shrug...and i love the hiking pics. you are lucky to live near such beautiful countryside! chez plum looks great also...will this be your new blog?
Thanks kate, yeah, my blog will eventually move over there, but not until we put up the new design and all that comes with it... :-D
Post a Comment
<< Home