Thursday, August 11
Ready for Round 2
Round 1 is over, I finished the first prototype.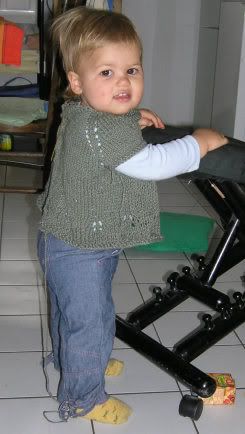 Looks promising, but lots of things to fix. I'm frogging it and trying again. One good point is that my 3-and-a-bit skeins are going to be plenty, so I don't have to worry about that. :-)
And I've been tagged by Christine. Like I said before I don't listen to a lot of music these days, so it shall pretty quick ;-)
5 CDs in your Player:
well, no actual CD player but just the laptop directly hooked onto the amplifier. Most CDs are stored directly in MP3 format. However I just happened to play one a couple days ago: some kind of a "top of the pops" we got in Russia. Pure russian junk pop, but I love it. Reminds me lots of
good memories. Other Cds left near the computer are "Zemfira" ( russian band), "chants de l'extase" from Hildegarde von Binger, and Steve Earle and the del McCoury band. (more memories, peeling cedar logs in B.C.)
5 Movies You've watched Recently:
Another hard question. Not many movies lately. "Cookies fortune" & "Ressources humaines" I know. Oh, that was a while ago, but there was "Bride an prejudice" too; I love Bollywood.. And can I say books for the 2 last ones..? I'm finishing a book by Lucie Aubrac, about her time in the french "resistance", and just before I read that book about Auschwitz. Very interesting.
5 Nice Things That Happened To You Lately:
uh, lately..?
1)this lady agreed to sponsor me for a couple skeins of yarn for one of my projects. Although I'm still waiting for her confirmation, that was a big high..!
2)..It's not "directly" concerning me, but Prune's first steps is a
really
nice thing.
3) Having lots of dear friends (and relatives too) visiting these past 2 weeks
4) Some kind of a maybe-project with Christine
5)The handmade present for Prune a kiwi friend sent that I received this morning
5 MP3s on your playlist:
The ones I listen too most often..? Bjork, Shakira (NZ memories), Anne Sylvestre (kiddy songs), Olivia Ruiz, soundtrack of "Monsoon wedding"
Okay, going back to the "Mouchelette"...
Comments:
That is so cute - although the model helps. ;-) Don't you just love working those little tops in the round. It seems to go so quickly. I see the motifs at the bottom. It's something I was thinking of for my orange cashmere thingie. Amazing how great minds think alike.
Post a Comment
<< Home