Tuesday, December 13
Not very reasonable..
So I have this Sociolinguistics oral presentation to prepare for thursday, and a Translation studies paper to write (same deadline), and yet what do I do ? crafts... Not very reasonable.
Actually, it's really hard to work with Prune around. Like I tried this afternoon, but she'll stick around me, pulling my papers and requiring more mommy attention !
On sunday night I finished the greenish lacy scarf (I mistakenly wrote blueish the other night !!) and got some nice little cristal beads to go with it. It badly needs blocking though, and I'm not sure where to do that. On the couch after prune's in bed, or on our bed during the day..?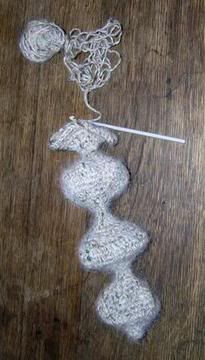 My fancy scarf is now about 3 1/2 bobbles long, haven't touched it much since sunday. And as if that wasn't enough, I started yesterday night a pair of fliptop mittens. (I tell you I'm not reasonable !!) Used a free pattern (with mods.. didn't feel like using dpns !!!) to get the hang of it but will now frog it and start anew with further modifications and new numbers... I think they're going to be cool. Just imagine reddish apparent crochet seam to join the sides, maybe some tassel somewhere, some kind of embroidery OR relief cable (bobbles ?) on top... and maybe I'll dye them in green because this blue is ...well, very blue !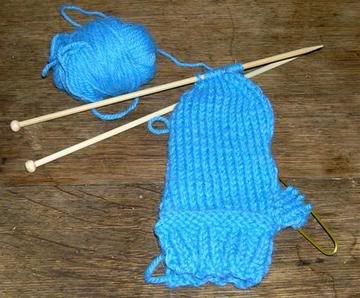 Then yesterday I made some gittle girl necklaces. One for my niece to add with the pink hat and purse, one for prune (and her doll. Here modeled by the kiki), and I even had enough beads for a third one...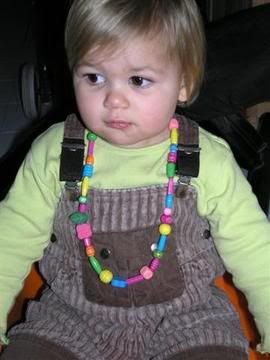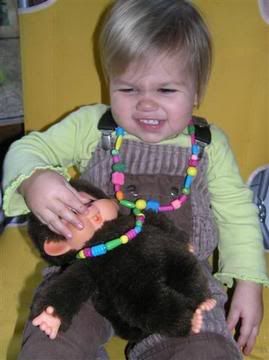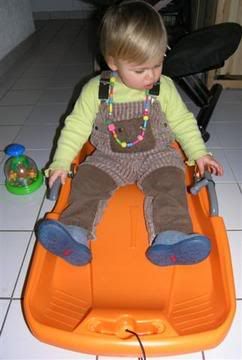 .. yeah btw, prune is ready for winter. She loves her new sledge, doesn't even seem to need snow.. ;-)
Comments:
I know I've said it before but Prune is so adorable - I had to say it again!
I Love that lacy scarf I say block it on the bed during the day it's a great surface for it.
Who wants to study when you have crafts to do!
Post a Comment
<< Home