Wednesday, February 1
It's a girl !!
I had my second ultrasound a couple hours ago.. and we're having a second girl !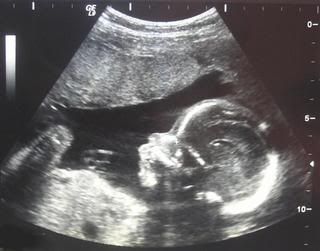 With this second pregnancy SOO different from the first and everybody telling me it'd be a boy, I was kind of prepared for a little guy, but no.
So it's cool, I'm slowly getting used to the idea. A team of girls. I had no sister (2 brothers!) and am always a bit curious (jealous ?) of the particuliar bond between sisters...
And oh. No new clothes to buy !! We can re-use all the cute girly stuff.. . ;-)
In knitting news, I'm nearly done with the back of the cardi. Goes fast really, but I just haven't been able to spend time on it lately, with my last papers for uni (Phew, it's all over now !! And I even got some surprinsingly good marks, am still floored !!) and family reunions and all...
Will try to squeeze in a few hours on it today before my friend Anouschka comes for the afternoon. I still have a hard time figuring what it's going to look like in red, but at least I like the way it knits so far, warm and fluffy, but not too dense.
Comments:
congrats!!!
I was the only girl in my family as well so I have no idea what that sisterly bond is like.
Post a Comment
<< Home