Wednesday, February 15
Miss red daisy
Here she is, modelled while trying to tuck in my tummy as much as possible !! ;-)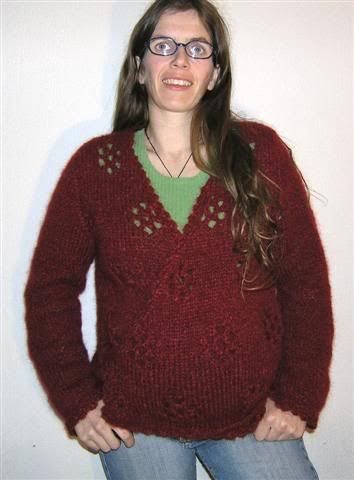 She's a delight to wear, and fits quite well. Although I'm wondering wether size small would have been better. I wasn't too sure and chose the Medium so I could wear it this winter too... We'll see how it goes after the baby !
Otherwise, it was all a breeze, and I'm delighted to have it already finished. Man, 2 sweaters for me in like only one month when I hadn't knitted one for like over 10 years !!!!
Anyway, it's also good because it means I can move on to the next thing, and my list of super-priority-project is pretty long at the moment. Now that I have the yarn, I really really want to make the chokers. Hope it works well with the Synchronicity (last yarn I tried was great and soft and beautiful, but lacked of relief).
Then I'm very excited about a lacy hoodie I want to make. It's all there in my head, and I really hope I can make it as nice !! Here's my first swatch, for what should be the "roses of Saadi" (after a poem we learnt at school)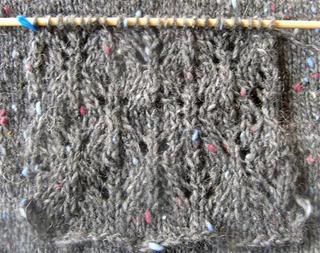 ..Oh, and of course if I were reasonable, I'd also finish the pattern for the
Mouchelette
. We'll see.