Friday, June 24
Time to vote !
That's it, the Stitch diva flower competition entries are online now so it's time to vote ! (also you'll get a 10% discount on your next order)
I was a bit dissapointed by the number of entries, I thought there'd be more. However, there are still a couple real cool ones.. And btw, I'm not the only one who thought of chokers..!
I'm quite happy because Maria's parcel made it alright. Guess I should receive her parcel with the Lionbrand stuff sometime soon. ...Yet more stuff to design !!! That's a lot of fun.
I'm working on several projects right now, got some pretty nice Plassard yarn the other day. I also swatched a new lacy pattern the other day (I guess you never really create anything, just re-discover something sbdy did before..). It should look good on the project I'm planning it for.
I also have to work again on my maryjanes pattern, as Tada !.. with 4 other gals we're now working on our own "rejected projects pdf book". We might not win a fortune, but that should be a lot of fun really..!
Which takes me to the name issue: I'm struggling to find a name for my soon-to-be website: "Pelotes" means skeins in french, but as I'm now mostly targeting an english-speaking audience, I'd like to find another name that would maybe include some french & english, and yet be pretty short and easy to remember. If you have any suggestions, I'd love that !
Oh, and the other day I forgot to add that I also found another goodie : That Anne Geddes picture...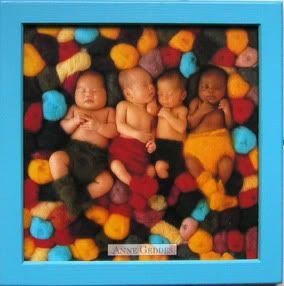 I'd seen before but thought it was too pricey.. and then this time it was only 1 euro !! So now Prune can have some "yarn" of her own.. ;-)