Thursday, June 30
a baby shrug
... I so can't resist showing it hot off the needles !! A mini shrug, sized for my baby girl. Next on the list is the same one, adult size !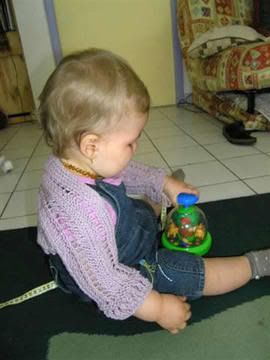 Also this morning I got the package from Maria in my mailbox : Yum, I love the LionBouclé, it's so soft, I can't wait to start on it... The Fun Fur will be a bit harder to use in an interesting project though. That still needs some thinking.
And Yeah, did you see she sent some Koolaid too ? Now I can play like everybody else.. (the only problem being whenever I smell it, I want to eat/drink it !) Thanks again Maria, I loved doing that swap with you !
Comments:
Oooh! I love the shrug! I want the pattern for that! So much so that I would be more than happy to help you with proof-reading! (I don't crochet much though, so I'd only be able to do knitting stuff!) Send me an email and I'll share the dress pattern with ya! Knittingforboozehags AT gmail DOT com.
You should switch your comments so that "other" can post on it! Luckily I have a blogger acc't, but I don't ever use it!
Post a Comment
<< Home