Thursday, June 9
Al last !!
I've been waiting for my
summer IK
issue to arrive for sooo long I was starting to think it had been "lost".. But it did make it after over 6 weeks of shipping! I really wouldn't get a subscription in the end, the wait would drive me insane !!
A lot of the projects are really very pretty but I have a sneak suspicion those may be my first priorities :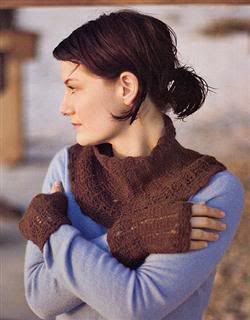 The brown set because I love to have something warm around my neck. And the lacy kerchief at least partly since I saw
that one
!
...And I said I wasn't a scarf person ? Yeah, but it's more about lace than scarf really .. ;-)
But back to my knitting : the deadline for the
Stitch Diva flower competition
is next Friday !! I probably won't be able to submit much, but it's always fun anyways.. I've finished the nearly gloves, except I have to redo the seams... I might take a pic when I'm done.
Hehe.. Did you see I've added a button in my sidebar ? I'm so proud !! :-) I know I'm still far behind but every step counts, right ?