Monday, June 12
Finally, baby Maud !!!!!!
Hey, we're back home !!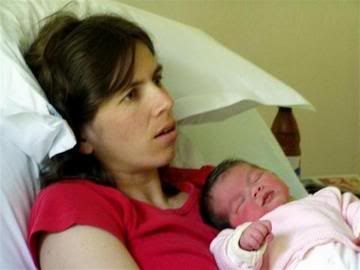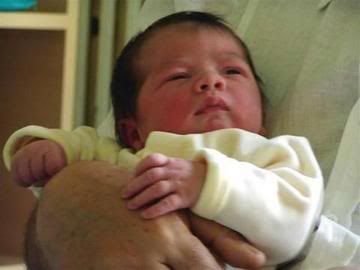 Maud was born at 4 pm on thursday, labor did take a bit longer than expected because she "floated" so much (twice the average quantity of liquid), but once they broke the waters she was out in 3 contractions. 53 cm, 3.8 kg. She seems real calm so far, only thing is she sleeps a lot during the day, .. but has trouble finding sleep at night.. But hey, she's only a few days old !
I'm fine too, although I fainted on the first evening ( didn't eat for the whole day and you should have seen the meal they gave me, like I was on a weight watchers diet !!). All good now, just need to be able to find sleep again. Not that that I don't have the time, my body just won't go in "sleeping mode"... hormones ? Was the same for Prune anyway.
Anyhow, enough baby talk. Tomorrow we're starting the grand tour to visit the family, so you probably won't hear much from me for a bit ... But let me just tell you I got the most amazing package from Yahaira today, I'll post pics later but you can already see a pic of the beautiful sweater she knit for Maud on
her blog
.
Oh, and can you believe I even knit a few rows while at the clinic..? Actually I even would have knitted more if I had packed it from the beginning but I felt silly taking my knitting with me. But it was nice and relaxing to have something to keep the fingers busy during quiet times...
Okay, talk to you all later :-D
Comments:
Aww...she's beautiful! Look at all that dark hair!
Sorry...I realize you don't know me because I've never commented before, but I found you through Craftster and have been an avid reader for some time now. I enjoy your work very much!
Post a Comment
<< Home