Wednesday, August 2
Of ticks and cars
We had a great week-end over at my parents with a lot of my family on my dad's side. There was 23 of us, ranging from 1 month to 95...! Not all of us, we're a large family, but already quite a bit.
It was really cool to spend time with them. Plus my mum babysat the girls to let me do a short walk with everybody else, which I sooo appreciated. Usually I stay at home while the others have fun.. ;-P
Here's one pic I like. Usually I'm the one taking photos, so I love when I'm on the pics too.. ;-)
Now the only downfall of that week-end is the little "souvenir" we brought back : a tick on prune's hip. Oops. And I hate those little guys! So we went to the doctor yesterday and had it removed... Only to discover that I also got THREE of them right afterwards during the mini-walk in the woods we made with my friend Pascale and her family. (she's such an awesome friend, and I love her aussie husband !)
...Morality of the story: I hate ticks. And I'm not going walking in the woods any time soon !!!
Craftwise, I've been (slowly) working on those baby gifts: crocheted cars. I'm still in the prototype stage, but here's the one for baby Nikita, nearly finished. Still needs a windshield. & I may change the wheels a bit on the next ones. Like the kitty rattle, it's got a wee sleigh bell inside. Prune has already placed an order for one... ;-)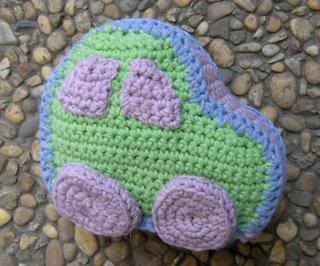 Edit : Have you checked out Knottie's Pattern database yet ? Still in the early stages, but that should be such a great ressource ! Read about the project
here
, look for patterns
here
, add a new pattern
here
, and finally give some feedback
here
.
Comments:
Great little car!
Good work, I don't know if you like embroidery on it, but it could "pronounce" it more (for example the windows)
Hello Sylvie - have been surfing the net for crochet & knitting blogs and came upon yours. I love your little bags - I am also a new knitter & crocheter - I have been learning since February. Your little Maud is adorable & Prune is the cutest in all her homemade outfits.
Will definitely pop back again to see what your making.
have a great day.
Post a Comment
<< Home