Friday, January 20
The new Phildar website
So I realised a couple days ago the
Phildar website
has been completely revamped. Looks ok, and you can now order yarn and catalogues directly online, which is cool. (not sure they ship international though..?) Anyhow, my point is, I already got a mail from sbdy who didn't know how to access the free patterns section anymore. And indeed, it's a bit trickier now. So if you want to see the 2 cool asymetrical cardis they have now (they change the free patterns like every season or so), what you have to do is this : go to "modeles presse", then click "creer mon compte" (= create an acccount / ID) and fill in all the boxes or at least the mandatory ones (marked with a star) and that's it !! You'll only have to "telecharger" (= download) what you like among the 2 ladies patterns or lots of cutie baby patterns..
EDIT
. like sbdy said in the comments, they do ship international. But for like 29 Euros to the US.. Also there 's a link to an english version for the site (top left on homepage) although it doesn't seem to work. (?)
In other news, thanks for all your compliments on my circulars ! I'm really pretty happy with them too... I've just re-sanded a bit the 8 mm (and added another coat of clear nail polish) and they work pretty smoothly. I do have to "help" the stitches onto the needle most of the time, but that's ok. It's a real pleasure for me to knit with them... and my little stitchmarkers !! :-D (which don't even stain the needles in the end !)
So I've started on the vest, a couple hours on it here and there and I've already started with the increases (above waist level). So far so good, and it comforts me in thinking this yarn works really well with that pattern ! Only thing is, I've started noticing the little speckles that probably are.. sheep dandruff..! Yuk. But that's okay, just shows it really IS tibetan wool..!! ;-)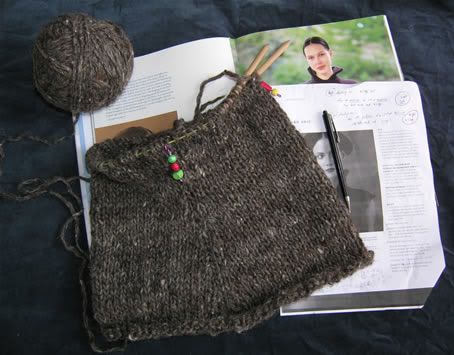 We're going away tonight for the week-end in the family cabin with friends, so I'm hoping it might be finished when I come back.... At least without the sleeves, and then I can decide whether or not I want to add sleeves...?
Comments:
ooo that vest is looking great!
sheep dandruff? been there, done that. it'll go away after a nice hot bath
Phildar does ship internationally, but charge a king's ransom. You might be better off doing your window shopping at the Phildar site and ordering from Phildar Wervik in Belgium instead.
thanks for the instructions for finding the phildar downloadable patterns, I wish I could get cardi raye in a pdf!! lol oh well! Still cool i logged in yay!
Post a Comment
<< Home