Wednesday, January 4
..and a Happy New Year !
Good, so all the festivities are over and we can now go back to normal life.. ;-)
Prune's got new mittens, and Laurent a new hat (although he may well get others, that one is far from perfect. but at least it's a hat, and it fits this time)
and I now feel like making a sweater for myself ! I actually brought back more "yarn" from my second stash (!) stocked by a grand'ma in Grenoble,
a finished sweater for laurent ( that he's never even considered wearing) with leftovers ect that I'll turn into something for me one of these days,
And this 100%
tibetan wool
sweater that I got at the salvation army years ago thinking of recycling that gorgeous yarn. So here I am. I've already dissassembled it all, and frogged the 2 sleeves. That's the 2 hanks you see, one has been washed and is nearly dry already, the others might go in the sink this afternoon. (I decided to do it right for once..!)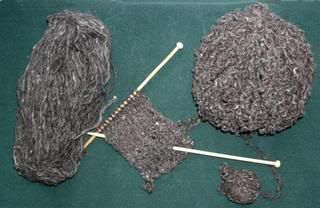 I swatched it on my 6mm bamboos. Guess it could even go with slightly bigger needles, but I really don't like the feel of the others (plastic ! Yuk!) so it should be 6 mm.. I want to go pretty simple, a fairly basic shaped cardi, all in stockinette to just show off the yarn. With maybe some fake apparent seams in the front (and back?).. somehow a bit like the LoopdLoop princess seams cardi, but different.. ;-)
We'll see what I manage to do. At least when I've decided on the plan and all, it should be a fairly quick knit.
And now I should get back to preparing tomorrow's finals. Gavaritié pa russki ? ;-)
But actually the russian one is the easy bit. I had another one yesterday btw, and managed to infuriate my teacher.. cause I answered a phonecall from daycare. I know that's wrong, but then .. and he was all surprised when I told him I thought my daughter was more important than a final at Uni! and he went on and on that I was living on another planet etc.. I was just mad. At least we both cooled down at the end, luckily for me. But boy it was hard to concentrate after that.
Comments:
Happy New Year! Your professor obviously doesn't understand what it means to be a mother! It takes priority over everything else, of course! Love those mittens, by the way...
Post a Comment
<< Home