Wednesday, January 25
The vest !!
Yay, it's done, and I can still (barely) fit my belly in it !!! ;-)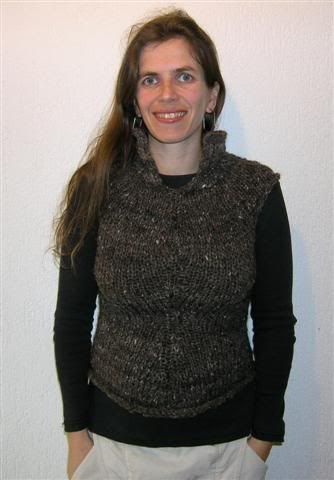 For the profile shot,
lookee here
! 8-)
So it was a really smooth and quick knit. Love the result, but I don't think I'll be able to wear it
long
this year ! Booh.
Probably doesn't need anything else, and no sleeves !! I love how the yarn works with that shape. And it's real warm.
The collar doesn't stand well on its own yet though, guess it'll need some blocking ..!
The pattern was ok. But on top of the
correction
already on Teva Durham's site, I'm pretty sure that on page 51 middle column it should read "sl1, left-slanting-dec, k31, (..) and not k33. Also, forget about the "5 stitchmarkers" : I ended up needing 17 for the yoke decreases !!!!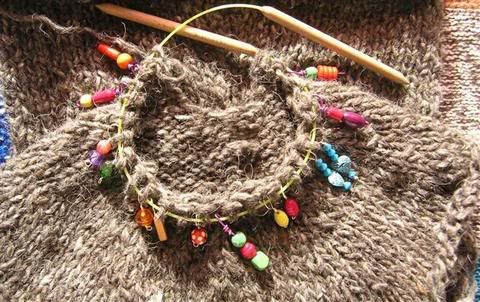 Some places I found a tad confusing, but that may just be me : I'm not so used to following other people's patterns in the end !!!
(And btw, I still have tons of yarn leftover, well enough for a second vest for sure. In case somebody's interested by a swap of some sort..?)
In other news, we've had a great week-end with our friends, lovely weather, fresh snow, kids dancing in the kitchen.. Felt great ! And we're going back for a whole week in march !! :-D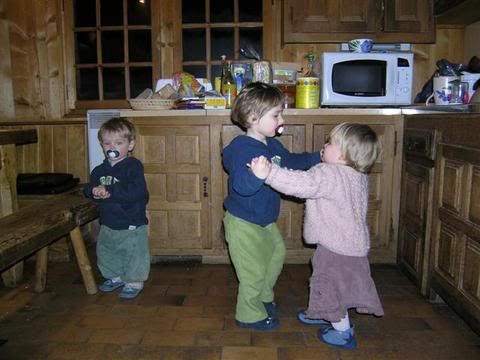 ..And I've been tagged by
sandra
for the meme of 4, hehe, will do that shortly !! But Blogger is supposed to be down very soon if I count correctly.
Comments:
Hi,
I'm currently knitting the Yoke Vest and I've made it to the divide for the collar where I have hit a snag. I can't seem to make it look right. Did you have any problems at this point? Thanks,
Katy
Post a Comment
<< Home