Thursday, January 12
Can't stop making them !!
So I got me some new gear yesterday (mostly better quality tools!) and made
more stitchmarkers
today !!! This stuff is just so much fun it's addictive... plus I found this colored aluminium wire the other day, and I just looove the result !
Here's my favorite set. I guess I'll have to make some for myself now ... tomorrow ? ;-)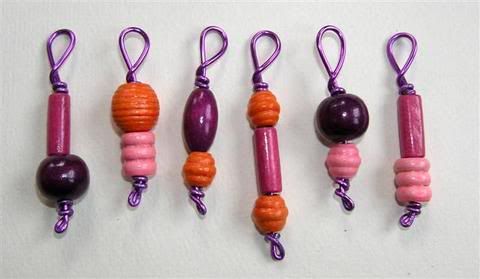 No progress on the knitting front though, since we suddenly decided to move the whole place around yesterday noon ! Which of course involved lots of cleaning, re-arranging etc. But now prune has her own bedroom. And we've slept our first night in the main room... with the noise of the fridge: that was a bit weird.
Anyhow, I should have my new shelves within a couple weeks but until then I've boxed all the yarn. Guess that means I'll just have to concentrate on my tibetan anyway, and have it done quick !! :-D