Friday, November 11
Of patience and the sewing-machine
Right, trying to post at least once a week so I guess I'd better hurry before I get to "next week" ! To my surprise, I've done some good progress on the Isabeau tote: I've finished knitting the body of the bag AND nearly finished sewing the lining. (by hand, I'm too lazy to get the sewing machine out "only for such a little project". Plus this thing always drives me crazy, funny how I'm usually such a patient tranquill person, EXCEPT with a sewing-machine !)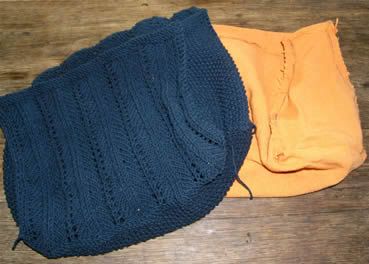 Anyhow. So I'm hoping to finish the lining and finish off the bag (handles, buttonhole strap etc..) like within the week-end ... and see the end result soon ! Ta-da... Let's hope for next week, right ? It may not seem quite so tote-ish yet on the pic, but I swear it is both wider and higher than the
handbag
. But that's the thing, you can never really tell what it's gonna look like till you see it finished...
Oh, and I'm glad to have yet another tester (thanks sheryl!) working on the XL size for the shrug. Maybe we'll be lucky this time. (
this being said without any bitterness ! I'm so grateful to all the ladies who are kind enough to help me out with this !!
)
I got my copy of Vogue yesterday in the mail. Thanks so much stephanie ! (your Phildar is on the way) I really
adore
the victorian patterns, and some of the cushions are really super pretty. Also, I like the technique nicky Epstein used for her flowers... but other than that, I was a bit surprised by the patterns. Is winter so un-inspirational ?
And also.. can I say it ? I'm going to write an article for a new toronto-based online knitting magazine! .. nothing fancy, just an article about translating french patterns into english (what else ?!), but still, I'm going to be published, exciting ! :-P
Hope you'll all have a great week-end. It's a 3-day week-end over here and weather seems promising so hopefully we can have a nice hike !