Sunday, May 29
My Rib shrug !
Well I've finished it at last. And I LOVE it !!!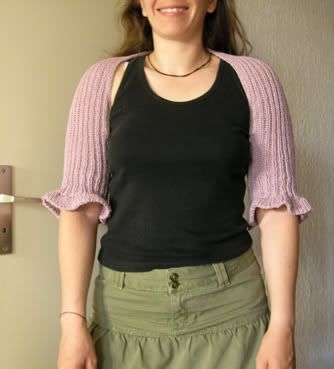 I fell in love with that
pattern
the first time I saw it but I wasn't sure I'd actually wear it, or give it as a present... But I've finished it yesterday night, and haven't worn anything else since.. So I guess we might have a keeper there !!
I also happen to love that yarn, it's the cotonina from Miss Helen (sold in french "monoprix"), with a lovely texture, nearly ribbon-like, 60% cotton, ..and only 1.70 euros/ball (3 balls for that shrug) !! And that color ...!!!!!!
(It's also the same yarn I used for the turquoise little textured tote shown below.)
Anyway, I love wearing that little shrug, it's just warm enough, and so cozy on my shoulders ! The perfect item for the weather we're having these days, with over 30°C...
Now, what will be my next project ? Probably some cute baby stuff for my friend Laure's baby girl who was born last week, Juliette. I want to make a Lacy baby bonnet, and maybe a pair of booties and a cardigan. Like in red...!
Comments:
Love it !!
I am actually knitting it but with a debbie bliss yarn, not so sure of the result...
I really like your blog.
Post a Comment
<< Home