Tuesday, March 14
Chokers and snow
... The
Pattern for the Chokers
is up !! It's a real quick knit with just enough challenge to keep it interesting (talking mostly about the slanted lace one, not much challenge in the cabled one actually...) But basically, if you can make an Isabeau purse, you can make a Felicie choker. And the added bonus is, one hank of Synchronicity is enough to try your hand at both options, with the optional flowers !
I did get some knitting/crochetting time during that week away, and my "box" is nearly finished. I just need to add a finishing touch before I take a pic of it.
So instead, I'll bore you with holiday pictures... ;-)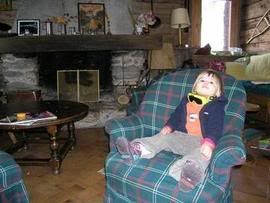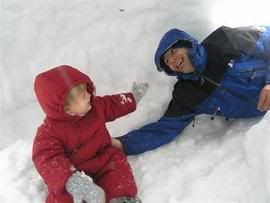 I just love the second one ... "Have a relaxing time with Torino !" As you can see, we had tons of snow. Massive snow dumps, the boys even went onto the roof to clear the snow. With my giganourmous belly (actually maybe not that much, but getting really annoying in terms of mobility. And there's still 3 months to go !!!) I only did some walking and nordic ski, but it was good to be outside on the mountain. Prune had the best time with the sledge and igloo and snowmen. Her daddy even made her
baby snowmen
so she could take them with her in the sledge and give them kisses and hugs...
Oh, and btw, Maylin said she can sell the recycled silk for 5 euros /100g plus postage(that's from France). Pretty cheap, hey ? I think I might need more !! If any of you is interested I'll give you her email.