Wednesday, March 15
The crate
So here's my new "WIP crate"..! It was a bit of a process to find the right way to finish the handles and all, but I'm quite happy with the result. It's just perfect for its intended use, fits the shelves just right, & ... I find it pretty ! Even Laurent said it looked nice when he saw it all done yesterday night. (the "seams" on the sides really make a difference to give it a more structured look)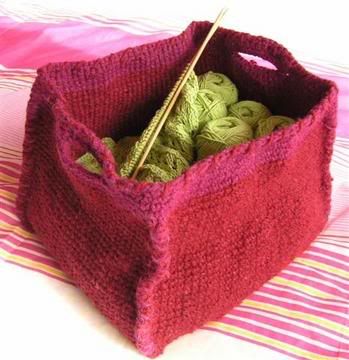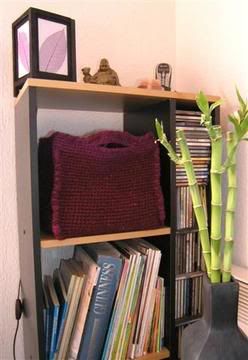 Also, I'm happy that I found such a good use for all this very scratchy yarn. I used up all the red, and still have lotsa pink. Which I think I'll make some round bucket-thingy with. I also need a basket for my knitting needles. Just have to decide on the shape.
... But Hey, I've been stashbusting again !!! And yet more satisfying, to a good use ! ;-)
Then this morning (day off, prune at childcare) I went to the bookstore. Looking for a book about linguistics. They didn't have it in stock. BUT there was the freshly published french edition of Nicky Epstein's "Knitting on the edge". And I had this 10 Euros voucher. What's a girl to do ?!!! So I got me a new book. Shhhh ! But it's such an amazing reference book. I know I'll be coming back to it over and over...
And I'll get the linguistics book from the library (As soon as I can borrow again that is!) Let's say it's all about priorities.. ;-)
EDIT: ...and hey, did you see ? There in the sidebar !! I just made a button for
chezPlum
!! Actually, I just cut it up from what shall one day, when laurent's not too busy (is that ever going to happen, who am I trying to fool ?), .. should become the new template for my site. It's sooo nice sometimes I can't wait but well...
Oh. And the usual stuff: steal my button, not my bandwidth.. ;-) (= save it to your own server)
Comments:
It's REALLY cool! I think I need one, my WIPs are all dusty right now because I sit on the floor to knit. (Hey - it's comfy!)
--Anushka
Post a Comment
<< Home