Friday, March 3
Off for the week
Hoo hoo ..!! Look what was waiting for me in the mailbox tonight : 3 hanks of recycled sari silk from the awesomest Maylin !!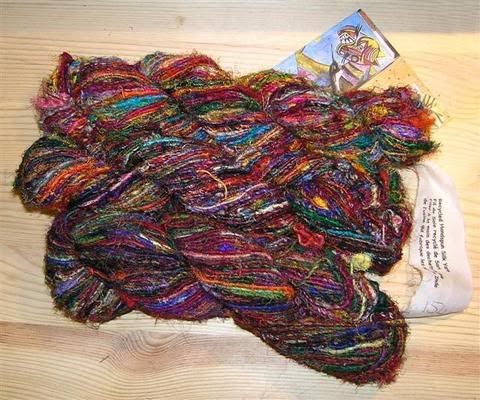 She just saw it in my wishlist and sent me some. How nice is that, I tell you !!!
Don't know yet what I'll use it for but it's so beautiful and luminous ! And so much softer than what I feared from the comments I had read on it !! This stuff is just gorgeous. I know it will "talk" to me very soon and tell me what it wants to become... Thank you so much again Maylin !!!
I'm just back from 2 days in Grenoble visiting the family. Did get the
second tomato
finished well in time for my nephew. I made this one
a little sign
that says "Je t'ai a l'oeil" ("got an eye on you"=beware, I'm watching you) and on the other side "Mon oeil !" ("my eye"= "my ass !).
..Had its little success, the stepdad even said he needed one for his car !!
And tomorrow we're off again, this time for a whole week to the family cabin. It's snowing like crazy, Yeah !! (mind you, personally I'm only going to do a bit of nordic ski again this year..)
So no post next week. ;-) But I'm taking along the lime spring cardi and the red "box"... hopefully I'll have at least an FO to show when I get back.
And in
chez Plum
news ... the pattern for the chokers is ready but I don't want to put it up now and then be away for 10 days, just in case. So it'll wait till we get back.
However, I did put online a
tutorial for the single-crochet seam
used in the patterns for the Isabeau bags (to join sides and handles). I wanted to do that forever, I'm glad I finally did. Hope it's helpful.
..Okay, see you guys in 10 days. I'll miss you ! ;-)