Friday, March 24
Where's the food-colouring ?!!!
This morning, I decided I'd have a wee dying party. Prepared all
my hanks
and then went to look for the gear. But the food-colouring was nowhere to be found. I resolved to using the Kool-aid I got in a swap a while ago (just wouldn't use it, the stuff smells so good !!).
BUT I hadn't realised it wouldn't work with cotton... And most hanks were cotton.
So here's my
lame results
for this morning. And to think all the lovely lime dye went down the drain in the rinse...! But I'll keep looking. Or buy more (food-colouring, not yarn !!). And I'll probably re-dye these babies. Needs more lime green in there...
Just to show I HAVE been knitting, a progress pic on the lime cardi. Will soon be done with the second front.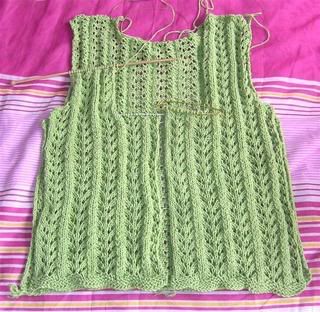 And finally, a crochet swatch with the magnifiscent Licorne from Phildar (I'm usually not crazy about their yarn, but this one is gorgeous).
Following the article in the latest issue of
Crochet me
, I played with front and back loops; On far left is regular dc, far right is dc in front loop. Probably doesn't show that well but dc in ft lp is gorgeous, very drapey, so much more suited for a garment. I'm starting on a wee project with it right now...
Haven't had much success yet with my swap offer. Really, anyone ? Up to 1 kg of french yarn for just a skein or two in return ?! (can you tell I REALLY want to get rid of it...)
Comments:
Ooooo, love that lime cardi so far! That will be a fav for years to come, I bet. Also love that Phildar yarn, (never used it)let us know how it goes. -Pam
Sorry that yor dyeing didn't go well. Yup, kool aid only works with animal fibers. I recently dyed a skein of 100% Superwash wool with kool aid and it was fun.
I have to agree..... Kool aid and food colouring only works with animal fibers.... If you dye cotton, you will need a mordant to keep the dye, or a litle will wash out everytime..
Good luck!! It still looks really great!
Post a Comment
<< Home